Joan Blum Rubenstein
Post a Message of Sympathy
|
View Messages of Sympathy
|
Printer Friendly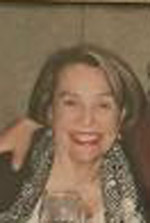 Joan Blum Rubenstein, age 97, died peacefully on May 24, 2023, surrounded by her family. She was born on August 23, 1925 in Wheeling, WV and spent her childhood in NYC. Joan spent her adult life in Syracuse, NY, where she raised her three children with her husband, Emanuel Rubenstein, to whom she was married for 49 years.
Joan, the matriarch of her family, is survived by her children, Susan Rubenstein Reed of Rochester, NY; Robert (Helen) Rubenstein of Fairlawn, NJ; and Patti (Jonathan) Becker of Stamford, CT, 8 grandchildren and 16 great-grandchildren. She was predeceased in 1993 by her husband and in 2012 by her granddaughter, Stephanie Rachel Becker, as well as her Mom (Marjorie Livingston Blum) and Dad (Melville Blum).
Joan was devoted to her family, adored her 3 kids, and called them her greatest accomplishment. Described by many as an optimist, she was known for her broad smile, bright red lipstick and matching red nail polish. Joan loved life, and the stock market. She was proud of her intellect and financial acumen. Joan graduated NYU at 19, with a major in retailing, where she was President of her sorority, Alpha Epsilon Phi. She was an avid reader, always with multiple 500+ page books by her bedside. She loved playing cards and was a bridge regional master. She enjoyed entertaining her many friends, which she did easily and often. She went on exotic annual trips but was equally happy at home with a casual dinner cooked in 15 minutes and served at 6 pm promptly. She spent many of her happiest days with her family at her cottage on Lake Ontario.
Joan was a true supporter of the Syracuse community. She was the longest serving volunteer at Crouse Hospital, where she worked for 40 years. She was the Treasurer of NCJW for decades and she was the Treasurer of Temple Society of Concord and President of Sisterhood.
In lieu of flowers, donations can be made to Stephanie Becker Fund at StephanieBeckerFund.com or Make-A-Wish.
Funeral services will be at noon on Tuesday at Temple Concord. Friends may visit with the family immediately prior to the service on Tuesday from 11-noon at the Temple, 910 Madison Street, Syracuse.
The service will be live streamed at: https://us06web.zoom.us/j/84214107536?pwd=R2ZZR1A5R1Y1QjE1K1hZY3p6UzlIZz09