Dr. Alice Sterling Honig
Post a Message of Sympathy
|
View Messages of Sympathy
|
Printer Friendly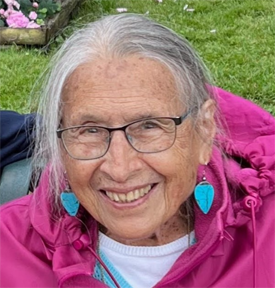 Dr. Alice Sterling Honig, 93, died Tuesday evening March 7 in Michigan, where she was with her daughter's family after a very independent old age. She was born in Brooklyn, NY in 1929 to Jewish immigrants Ida Bender and William Sterling. A little girl who loved big books, she was valedictorian of her class at Erasmus High school, and attended Cornell University where she married fellow student Arny Honig after meeting at a piano recital where they both performed, followed by much folk-singing together.
She obtained her BA degree from Barnard College and MA from Columbia University before raising children and completing her PhD at Syracuse University. She embarked on a prolific and influential career working with Bettye Caldwell as program director for Syracuse's pioneering Children's Center, as SU Professor of Child Development, and as a licensed clinical psychologist. She loved teaching and writing about language and social development, including over a dozen books, received numerous awards including Barnard Alumnae 2015 Woman of Achievement Award, and trained childcare staff all over the world in her inimitable vivacious, warm style.
She is survived by her three children Larry, Madeleine (Richard), and Jonathan (Eveline); grandchildren Daniel (Elena), Shoshannah (Sam), Natalie (Dan), Naftali (Sarah), Ben, Ofira, Tamar, Maija and Edouardo; five great grandchildren; her sister Theresa Knoblock; Arne and Tanya, the children of her predeceased partner Arthur Komar; and many extended family members.
Funeral services begin at 9:30 AM Sunday, March 12 at Sisskind Funeral Chapel, 3175 E. Genesee Street, Syracuse; friends may visit with the family from 9-9:30 AM. Burial will be in the Beth Sholom section of Oakwood Cemetery. Contributions in lieu of flowers may be made to a charity of your choice, especially supporting families and child development.
Message of Sympathy

Post a Message of Sympathy
Dr Honig was a dynamic influencer in my life. She changed the projection of my career path by raising my awareness of the critical stages of development in infant and toddler care. Her influence in my life has made me a better human being and I'm forever grateful that I knew her both professionally and personally.
Written by
Lois Truman
2023-08-09 4:21:14 PM
---