Evelyn Wallace
Post a Message of Sympathy
|
View Messages of Sympathy
|
Printer Friendly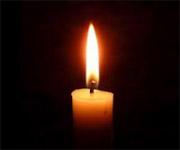 Evelyn Wallace, 100, died Sunday at St. Josephs' Hospital. Born on the family farm in Pompey, NY on May 4, 1922 to Eli and Chana Rosenfeld, she had been a resident of Syracuse for most of her life. She married Robert "Mutsy" Wallace in 1941 and raised their family in Walton, NY until 1960 when settled in Syracuse.
Evelyn was a graduate of Central High School. At 15 she played softball on the all star team that went on to win the national championship in Chicago; played on the first all women's football team in the country; was a swimmer extraordinaire who taught swimming as a teenager; started a youth bowling league in Walton; continued to bowl until she was 91; and was an avid fan of SU sports. The Dodgers always held a special place in her heart.
She always had a smile on her face and made everyone around her feel comfortable. She had a kind word for everyone and never complained.
Her husband "Mutsy" died in 2006.
Her family includes her daughter Judy; her son Larry; grandsons Daniel, and Aaron; and great grandchildren Patrick Jr., and Cori.
Funeral services will be at 11 AM on Wednesday at Sisskind Funeral Chapel. Friends may visit with the family immediately prior to the service at the chapel, 3175 E. Genesee Street. Burial will be in Adath Yeshurun Cemetery.
Contributions in her memory may be made to Boy's Town, PO Box 8000, Boys Town, NE 68010
Message of Sympathy

Post a Message of Sympathy
To family, Aunt Ev was always kind, loving and fun. She truly loved us all. May She Rest In Peace, love, Paul and Sandie
Written by
Paul Rosenfeld
2023-01-25 4:07:28 PM
---