Renae Allison (Cauger) Kochel
Post a Message of Sympathy
|
View Messages of Sympathy
|
Printer Friendly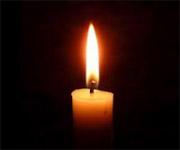 In loving memory of Renae Allison (Cauger) Kochel, who passed away peacefully on Tuesday, January 17, 2023 at the age of 39.
Renae's final days were spent surrounded by family and friends as they shared fond memories of her life.
Renae will be remembered for her beautiful singing voice, incredible work ethic, and love for travel, wine, and delicious food.
After graduating from Fayetteville Manlius High School in 2002, Renae attended Penn State University, where she earned a bachelor's
degree and became a PSU football super fan. She then began an exciting and successful career in public relations in New York City,
where she moved up the ranks primarily serving clients in the health and beauty industry.
Renae met her husband Travis, a fellow Nittany Lion, shortly after arriving in New York. The two were married on Penn State's
main campus in 2011 and, after spending a few years in Hoboken, New Jersey, made a cross-country move to Seattle, where
Renae took on leadership roles in public relations and marketing at Chateau Ste. Michelle Winery and, most recently, Sono Bello.
It was also in Washington that she and Travis welcomed the joy of their lives, Mason, into the world in 2015. As a family, they enjoyed
spending time outdoors, having nerf battles in the living room, relaxing with their dog, Mochi, and cat, Chloe, and visiting their lake home in Chelan.
Friends and family will miss her infectious laugh, Asian cooking, and eclectic taste in music.
Renae was predeceased by her maternal grandparents, June and Carl Lustig and paternal grandparents, Ted and Melba Cauger.
In addition to her husband and son, Renae is survived by her mother, Susan Bodley, and stepfather, John Bodley; her father,
A.Scott Cauger, and stepmother, Mina Bradley Cauger; her brother, Adam Cauger; and her sister, Olivia Bradley. As well as uncles, aunts, and many cousins.
A memorial service will be held Memorial Day weekend at Temple Concord in Syracuse, NY.
Details will be published prior to the service..