Scott Waltzer
Post a Message of Sympathy
|
View Messages of Sympathy
|
Printer Friendly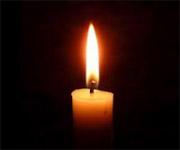 Scott Waltzer, 62, died Sunday evening at Van Duyn Rehabilitation Center. Born on December 14, 1960 in NY to E. Leonard and Barbara Waltzer, he had been a resident of Syracuse for more than 20 years.
He most recently was the security guard at The Regency Towers of Syracuse.
His family includes his companion Annette Bailey of 20 years; his mother Barbara, his brothers Mark, and David; and his sister Danielle.
Funeral Services will be at noon on Friday at Sisskind Funeral Chapel, 3175 E. Genesee Street. Burial will be in Linas Hatzedek Cemetery. Contributions in his memory may be made to Chabad Lubavitch of Central New York 825 Ostrom Avenue Syracuse, NY 13210
Message of Sympathy

Post a Message of Sympathy
Go on friend, go through the gate, go on friend, go on towards the beautiful light, go on friend, let yourself be embraced with the love of God's arms. Go on my friend, you are freed from a body that had become an armor for you. Go dear friend with your beautiful warm voice, let go of everything, go. Much love from, Kees, Buddy & Ina from the Netherlands.
Written by
Kees, Buddy & Ina Vonk
2023-01-18 1:55:51 PM
---
My sympathies to Barbara, Mark, David, and Danielle. Scott departed before his time. I regret we didn't reconnect as adults.
Written by
Lee Perlov
2023-01-19 6:39:59 AM
---
Barbara and Family, Please accept my sincere condolences. Warm regards, Sarah Joyce Jefferson
Written by
Sarah Joyce Jefferson
2023-01-28 12:50:32 AM
---