Lila Hafter
Post a Message of Sympathy
|
View Messages of Sympathy
|
Printer Friendly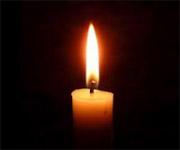 Lila "Lee" Hafter died Tuesday evening. Born on June 27, 1934 in Utica to Irving and Genevieve Steinberg, she had been a resident of Syracuse since she and her husband Marty were married in 1959.
She was a graduate of The University of Miami School of Education, and then began her teaching career. Lee taught at the Jamesville-Dewitt Schools for many years.
She was a life member of Temple Adath Yeshurun, the Sisterhood of the Temple, loved to knit, was an avid reader, Mah Jongg player, and was a great cook who loved to prepare meals for her family and friends. Most important to her were her family and friends who were like family. Her home was always warm and welcoming. Everyone lingered at the kitchen table enjoying great food and company.
She was pre-deceased by her brother Barry Steinberg.
Her family includes her husband Marty of 63 years; their children Nancy (Michael) Gross; Andrew (Mary), and Jeff (Liz); grandchildren Heidi (Lee), Adam (Erin), Liam, Kyle, Sophie, and Genevieve; 4 great grandchildren; her sister-in-law Barb Steinberg; and nieces, nephews, and cousins.
Services will be at 2PM on Friday at Sisskind Funeral Chapel. Friends may visit with the family immediately prior to the service on Friday from 1-2PM at the funeral chapel, 3175 E. Genesee Street. Burial will be in Adath Yeshurun Cemetery. Contributions in her memory may be made to Temple Adath Yeshurun www.sisskindfuneralservice.com
Message of Sympathy

Post a Message of Sympathy
My deepest condolences. Sybil Schultz
Written by
Sybil Schultz
2023-01-12 2:57:48 AM
---
Dear Marty and Family, Thinking of you with deepest sympathy and hoping each new tomorrow will bring you comfort and peace. Most sincerely, Al & Shelly Polge
Written by
Al and Shelly Polge
2023-01-12 9:42:04 PM
---
My deepest condolences to you Nancy and your family. May you be comforted by your the wonderful memories you have of your mother and your children's grandmother. Lee's room was very near my late husbands's at Menorah Park. I saw her almost daily for a time. She was quite valiant and yet fragile and always gracious. I'm sorry I didn't get to know her before this ! She loved you all.
Written by
Susan Orr
2023-01-13 11:14:50 PM
---
I was so sorry to hear of your loss. Lee was such a nice lady, and it was always a pleasure to see her. My sincere sympathy to all of the family. I remember when my parents went to Lee & Marty's wedding. Your cousin, JoAnn Grower (part of the Hafter/Karlson family)
Written by
JoAnn Grower
2023-01-13 4:01:02 PM
---
In Sympathy - May peace and love surround your family during this difficult time. Your cousins, Eileen (Grower) & John Blair (I am part of the Hafter/Karlson family)
Written by
Eileen and John (Grower)Blair
2023-01-13 4:48:11 PM
---