Mateele S. Kall
Post a Message of Sympathy
|
View Messages of Sympathy
|
Printer Friendly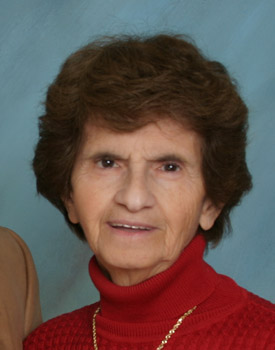 Mateele S. Kall, 81, passed away peacefully with her family by her side on Thursday. Born on March 23, 1941 in Tupper Lake to Joseph and Anecy Shaheen she had been a resident of Syracuse for more than 65 years. She was a graduate of the Syracuse University School of Business. She earned her CPA license in 1986 and practiced her profession in Syracuse with her partner and husband Sheldon for more than 40 years. She was the managing partner.
Mateele had been an adjunct instructor of Accounting at Cazenovia College.
She was a member of the board of the Jewish Community Center, volunteered with the senior meal program at the JCC, and delivered for Kosher Meals on Wheels. Mateele was a passionate bridge player and especially proud to have the status of a life master.
Mateele and her husband Sheldon were the founding trustees of the Pomeranz, Shankman, Martin Charitable Trust. The trust under their capable guidance has funded Central New York Jewish Agencies for the past 20 years and will continue to do so. Mateele and Sheldon were honored with the Kovod Gadol award from the JCC in recognition of their dedication to the Jewish Community. Mateele and Sheldon were the first people to be awarded the President's Award by Temple Concord. Mateele was also very proud to be a Lion of Judah.
Mateele was the youngest of 6 children, and the only daughter.
Her family includes her husband Sheldon of 57 years, their children
Deborah (Joseph) Schaal, Jacquelyn (Steven) Miron, and Matthew (Naomi);
Grandchildren Jimmy, Rachel, Danny, Sophie, Abby, Hannah, and Lucy; and her brother Ayupe Shaheen; and many beloved nieces and nephews.
Funeral Services will be at 11AM on Monday at Temple Concord. Friends may visit with the family immediately prior to the service at Temple Concord from 10-11AM on Monday. Burial will be in the Temple Concord section 30 of Woodlawn Cemetery.
Contributions in lieu of flowers may be made to a Jewish Agency in the spirit of Tikun Olam, or to The Wild Center of Tupper Lake, NY
Shiva will be observed Tuesday, January 10 from 5-7PM at The Oaks of Dewitt.
The service will be live streamed on the Sisskind Funeral Service Facebook page beginning at 11AM on Monday. www.sisskindfuneralservice.com
Message of Sympathy

Post a Message of Sympathy
The Gold family from Michigan extend our condolences to the Kall family. (We are Naomi's cousins). May Mateele's memory be a blessing.
Written by
Judith and David Gold
2023-01-06 12:18:42 PM
---
To the Kall family, Our deepest sympathies for your beloved mother, grandmother, sibling and aunt. May the memories you had with her fill you with comfort at this difficult time. You are in out thoughts and prayers. With love, Kim and John Mezzalingua
Written by
Kimberly Mezzalingua
2023-01-06 2:56:02 PM
---
Sending our most sincere condolences. Thoughts and prayers with your family at this time.
Written by
Nathan and Katelyn Shaheen
2023-01-06 3:38:42 PM
---
Mateele was an exceptional person. Her passing is a great loss to all who knew her.
Written by
Harold Shapiro
2023-01-06 4:42:25 PM
---
Marcy, Susan and Jennifer Matlow fondly remember many wonderful times with the Kall family. Mateele was a such a lovely person. We are deeply saddened to learn of your loss and hope your loving memories will help to ease your grief.
Written by
Susan Matlow
2023-01-07 1:02:31 AM
---
My sincerest condolences to the Kall Family. Mateele was such an accomplished and beautiful person. Her dry wit always brought a smile to my face. My thoughts and prayers are with you all. Leo Vassallo
Written by
Leo Vassallo
2023-01-09 4:21:16 PM
---
Dear Sheldon, Debbie, Jackie & Matt, What a beautiful service and amazing tributes the 3 of you and the grandchildren delivered. Having had the honor to spend time in your home as your babysitter and with Mateele and Sheldon, I know how proud of you Mateele would have been and Sheldon is of you today. I send my thoughts, prayers and love to you all. I know first hand how difficult this time is and wish you stength to navigate through the time ahead. Love, Lauri (Dannick) Taylor
Written by
Lauri Taylor (Dannick)
2023-01-09 4:56:21 PM
---
My sincere condolences to the Kall family. I am very sorry for your loss.
Written by
Aaron Howell
2023-01-09 6:50:19 PM
---
Mr. Kall, I send sincere condolences to you and your family upon the passing of Mateele. She remains in my heart always as a remarkable woman who inspired me daily. She and I shared many special moments when I was lucky enough to work for her. Her support means everything to me. Because of her, I went back and did graduate work and passed the CPA exam. I had a glorious career. Thank you. With love, Ellen
Written by
Ellen Maddock
2023-03-05 6:48:38 PM
---