Phyllis A. Berinstein
Post a Message of Sympathy
|
View Messages of Sympathy
|
Printer Friendly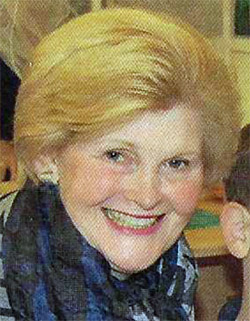 Phyllis A. Berinstein, 84, died on New Year's Day. Phyllis was born on May 21, 1938 in Detroit, to Dr. Raphael and Dorothy Altman. She was a graduate of The University of Michigan, and earned her Master's degree at Wayne State University. She met her future husband William in Detroit where they were set up by a mutual friend. Bill proposed two weeks after that first date. This August 22 would have been their 59th anniversary.
Phyllis was the owner of Phyllis Berinstein Interiors. She worked with countless families to create beautiful, tasteful, and creative interiors all reflecting the family's individual taste and style. Phyllis and her family were lifetime members of Temple Concord. The Benjamin Berinstein Chapel at Temple Concord was her design, and donated by the family. It is a beautiful and sacred space.
Phyllis was the former President of the Brockway Farms Garden Club.
Her family includes her beloved and devoted husband Bill; their son Ben and his wife Ilana, and their children Jason, Jeffrey, and Tammy; their daughter Dorothy and her husband Peter, and their children Graham, and Minna; her sister Carol Bromberg; her brother-in-law and sister-in-law Henry and Ronney, her niece Jennifer and her husband Nels; and her nephews David, and Daniel and his wife Sophie.
Funeral Services will be at 10AM on Wednesday at Temple Concord. Friends may visit with the family immediately prior to the service in the Berinstein Chapel at Temple Concord from 9-10AM on Wednesday. Burial will be in the Temple Concord section 30 of Woodlawn Cemetery.
Contributions in her memory may be made to The Berinstein Chapel at Temple Concord, 910 Madison Street, Syracuse, NY 13210
The service will be live streamed on the Sisskind Funeral Service Facebook page beginning at 10AM on Wednesday.
www.sisskindfuneralservice.com
Message of Sympathy

Post a Message of Sympathy
Dear Bill and family, My friend, I send you my deepest sympathies on the very sad loss of Phyllis. May G-d comfort you all. Len
Written by
Len Levy
2023-01-02 7:45:18 PM
---
Our deepest condolences to the entire Berinstein family and most especially to Dorothy Kelly our dear friend. May your mother's name and memory live on through the ages. With love, Judy and Bill Eisner
Written by
Judith & William Eisner
2023-01-03 3:02:59 AM
---
Dear Bill, My deepest condolences to you and your family. Such a difficult time for all of you. With sympathy, Judy Granatstein
Written by
Judy Granatstein
2023-01-10 6:51:59 AM
---