Alla Menaker
Post a Message of Sympathy
|
View Messages of Sympathy
|
Printer Friendly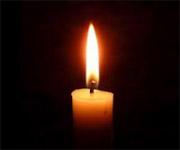 Alla Menaker, 85, died Thursday at St. Joseph's Hospital.
Born in the Ukraine on October 22, 1937 to Moishe and Rahil Gerenshtein, she had been a resident of Dewitt since 1997. Alla was an accomplished economist in the Soviet Union. She had many challenges in her life beginning when she was just 3 years old. Her family fled the Ukraine by horse drawn wagon and on foot just steps ahead of the Nazi invasion. It was a miracle that she survived.
But she did, and went on to earn advanced degrees at the University in Moscow where she met her future husband Zahar. In spite of doctors orders that Alla's health history would make a pregnancy dangerous they were blessed to have a child; their daughter Anna.
In 1997 they were urged to come to Syracuse to join their cousins, the Gerstein's, who had made a good life here. The Menaker family, like so many other Russian Jewish families faced the challenges of leaving the only home they had ever known in search of a better life. They settled in Syracuse, were active in their congregation where they were warmly welcomed and built a new and better life.
Alla is survived by her husband Zahar, their daughter Anna, cousins, and her dear friend Lucy Kleiner. Graveside services in the Temple Concord section 63 of Woodlawn Cemetery will be at 1PM on Monday, November 28. All are welcome. Contributions in her memory may be made to Congregation Beth Sholom Chevra Shas