Shirley Betty Liberman Ashkin
Post a Message of Sympathy
|
View Messages of Sympathy
|
Printer Friendly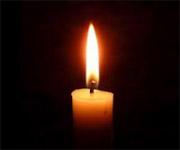 Shirley Betty Liberman Ashkin passed away at home peacefully on October 30 at age 94, after a rapid decline in health. She was predeceased by the love of her life, Sidney Ashkin, after 72 years of marriage, having been friends since age 8. Shirley was also predeceased by her sister, Yetta Toffler and brother, Marty Liberman.
Shirley was born and raised in Utica, and moved to Syracuse following her and Sid's 1948 marriage. Shirley loved being a mother, homemaker and wife; hosting Jewish holidays and family celebrations. While she worked with Sid and Joe on occasional Saturdays at Salina Shoes, her true dedication was raising and loving her family. Shirley had a passion for golf with the girls and nightlife at Lafayette Country Club with Sid.
Shirley will be missed and lovingly remembered by sons Sheldon (Mary Hunter) and Howard (Jacki), granddaughters Mikel (Josh) Suna, Jesse Ashkin (Joris Cretien), and Cari Ashkin (Luis Bernardo), daughter-in-law Barbara Ashkin and many caring nephews, nieces, cousins and friends.
The family thanks Marsha Disque and her many compassionate caregivers, who helped Shirley
live her best life at home.
Funeral services will be at 11AM on Wednesday, November 2 at Sisskind Funeral Chapel. Friends of the family may visit with the family immediately prior to the service on Wednesday from 10AM to 11AM at the funeral chapel, 3175 E. Genesee Street. Burial will be in Adath Yeshurun Cemetery.
Donations, if desired, may be made to Temple Adath Yeshurun, or a charity of your choice.
A live stream of the service will begin at 11AM on Wednesday on the Sisskind Funeral Service Facebook page
Message of Sympathy

Post a Message of Sympathy
Sheldon, Howard & Family: I am sorry to hear that your mother has passed. It is difficult to say goodbye to a loving mother and I am thinking of you. My sincere condolences. John Brown
Written by
John Brown
2022-10-31 5:12:16 PM
---
Condolences and love sent to a close knit and wonderful woman and family.May HaShem give a "kiss" to Shirley and remember her lively spirit and devotion. Ahavah Gadol Niles and Jonita GreenhouseMD and extended family
Written by
Niles GreenhouseMD
2022-10-31 7:02:53 PM
---
Aunt Shirley will be missed more than you can imagine. Our yearly trip to Syracuse was something we looked forward to seeing Shirley, Shell, Howard and friends. Shirley always had goodie's to nosh on after a long ride. She loved seeing all the family together. She will now be back with her love of life Sidney.
Written by
Jerri and Gordon Toffler Clinton Twp., Michigan
2022-11-02 2:00:26 AM
---
Shelly...Sending sincere condolences to you and the rest of the family on the passing of your mother. It's a difficult road to travel no matter how old our folks or we are when they pass. I didn't know your mom (though I surely knew your folks at Salina Shoes, and no doubt they were friends with my parents at LaFeyette) but she sounds like she was the quintessential Jewish mother and I'm sure will be remembered with much love.
Written by
Diana Cramer
2022-11-11 9:18:09 PM
---