Dr. Murray Alan Grossman
Post a Message of Sympathy
|
View Messages of Sympathy
|
Printer Friendly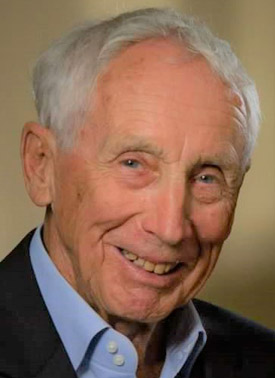 Grossman, Murray Alan Hebrew name:
Legal address
20 NE Plantation Road #104
Stuart FL 33496
Dr. Murray Alan Grossman passed away on October 27, 2022 in Syracuse, New York, three days shy of his 100th birthday.
Murray was born in Syracuse, New York on October 30th, 1922 to Lionel and Clara (Fitzer) Grossman. He graduated from Nottingham Highschool in 1939 and went on to attend both Syracuse University and the Syracuse University College of Medicine, graduating as Medical Doctor in June 1945 at the age of 22. He spent two years as a U.S. Naval Medical Officer before continuing his medical training at the Cornell division at Bellevue Hospital in New York City. He returned to Syracuse for his residency and then entered private practice in 1951. While he loved treating patients, his true passion was teaching which ultimately led to Murray joining the clinical faculty as a full professor at Syracuse University College of Medicine (now SUNY Health Science Center) where he specialized in cardiology up until his retirement in 1992 as Professor Emeritus.
His medical career included two separate American Heart research fellowships at the University of Utah, the first in 1970, followed by a second in 1986. He also was the driving force behind setting up the first cardiac care unit in the Syracuse area, which led to a stunning 50% drop in mortality from cardiac arrythmias. Murray went on to serve as president of the medical staff at Crouse Irving Hospital where he led the creation of the new combined Crouse Memorial Hospital, now known as Crouse Hospital. During that period, he worked with the president of the Upstate Medical Center to develop a working agreement between the two institutions so that the new hospital became a primary teaching facility for the Upstate Medical Faculty. He also served as a lecturer and cardiac consultant to the Federal Aviation Administration from 1973 to 2001 helping the agency establish cardiac safety standards for licensed pilots.
Murray's passion for teaching extended well past his official retirement, and he remained active in the medical school throughout his retired years. Even as a 99 year old patient, he insisted on reading his own electrocardiogram, pronouncing himself "fit as a fiddle" to the attending physician on duty. Physical activity was an important part of Murray's life, from playing basketball as a youth at Nottingham high school to activities such as tennis, golf and skiing later in life. It was Murray's love of skiing in particular that led to a twenty year period from 1993 to 2013 where the family lived in Park City, Utah.
Murray was an active philanthropist in the local Syracuse community where from 1964 to 1971 he served on the Board of Directors for the United Cerebral Palsy Association, serving as its president the last two years of his service. It was during his presidency that the organization changed its name to Enable and greatly expanded its scope of services beyond those afflicted with cerebral palsy to assist a broader group of disabled individuals. He also served as a director of the United Way of Central New York from 1971 to 1979. More recently, he and his wife partnered with his son on a donation to provide year-round supplemental legal services to individuals with physical handicaps, which is a service offered as part of the Syracuse University College of Law. He also was the inspiration for a named scholarship at Syracuse University dedicated to supporting graduate education and social work. Lastly Murray was a long-time financial supporter of the Lionel Grossman Moot Court at the Syracuse University College of Law.
His life long association with Syracuse University included a 25 year period where he served as a medical consultant to the Syracuse University Athletic Department and in in 2016 he received the Letterman of Distinction award for his years of service to the Athletics department.
Murray leaves behind his wife of 48 years Kathy (O'Leary) Grossman, children Elizabeth (Marnell) Grossman of Stuart, Fl.; Jacqueline Kelly of Scotia, N.Y., Sarah (Patrick) Leonard of Arlington, Virginia; and, Brian (Beth) Grossman of Hillsborough, California and six grandchildren Shannon Kelly; Brady, Zoe and Sylvie Grossman; and, Claire and Kate Leonard, and his sister Suzy Grossman.
Funeral services will be held on Sunday, Ocbober 30th at 10 a.m. in Oakwood Cemetery. Family and friends are invited to the cemetery for the service.
The family would like to give special thanks to his care givers over the past few months, Ann Marie Borkowski, Amy Morris and Mariya
Belov.
In lieu of flowers contributions can be made to the Faith Linda Grossman Endowed Summer Disability Law Internship Fund at Syracuse University College of Law c/o Advancement Services 640 Skytop Road, 2nd floor
Syracuse, NY 13244 (315) 443-1964
Message of Sympathy

Post a Message of Sympathy
I was privileged to have worked with Murray back in the 1970's at Crouse Hospital's Coronary Care Unit. At that time Murray and Kathy married; I had met Kathy through her cousin Barbara Lynn Maphey. We were all SU football fans, and attended games regularly at Archbold Stadium, which preceded the Dome. On one such occasion we were just leaving the Orange Pack area when an elderly man in a black fedora suddenly fell like a tree in front of me. I hollered for Murray, who helped me resuscitate this gentleman until the SU Ambulance service showed up. Our paths crossed often over the years during football tailgate parties. I will always remember Murray's deep interest in cardiology and his vibrancy even in old age. RIP, Murray, you will be sorely missed.
Written by
Cathleen Donegan
2022-10-28 5:53:46 PM
---
Kathy and family, Patti and I send our deepest sympathy on Murrays passing. Our friendship goes back a long way and I always admired him as a doctor and an outstanding member of our community. Nick Pirro
Written by
Nicholas Pirro
2022-10-30 11:17:11 AM
---
Kathy & Family Bob & I were very sorry to hear of Murray's passing. He was such a nice man, & my family has known him for a very long time. Our thoughts & prayers go out to each and everyone of you. Just know he will always be in your hearts, and he will always be watching over each and everyone of you. With deepest sympathy, Robert and Lynne Bartosch
Written by
Lynne Bartosch
2022-10-30 3:01:00 PM
---
Deep condolences and lamentations to a remarkable man and family. I've attended medical lectures from 1962 to present. Murray always makes you feel at ease and makes difficult topics seem like nothing at all. From card games to cardiology. From Scooter to precision medical details. you could always depend on Dr. Grossman. Mazel Mazel Love Niles and Jonita GreenhouseMD and extended family
Written by
Niles GreenhouseMD
2022-10-31 12:24:04 AM
---