Gloria Gould
Post a Message of Sympathy
|
View Messages of Sympathy
|
Printer Friendly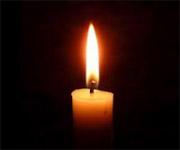 Gloria Gould, 89, passed away on Saturday at Menorah Park. She was born in Brooklyn, NY on 10-4-1933 to Jack and Ruth Hochberg. A graduate of Queens College with a degree in elementary education, she later received her Master's degree in education as well as certification in library science. While she began her teaching career in Great Neck, NY, she spent many years teaching in the Morris School District in NJ until her retirement. She loved children and teaching, and was never without books to give to friends' children and grandchildren. 
Gloria and Stanley Gould were married in 1956 and had a loving relationship until his death in 2004. They enjoyed traveling together, being active in the local Jewish community, and socializing with friends and family. Gloria especially enjoyed spending summers at the Chautauqua Institution where she made many friends and was active in several groups. She served as co-president of the Hebrew Congregation, and oversaw the Jewish lecture series. She was a lifelong learner who loved attending the daily lectures at Chautauqua.  
After Stanley's death, Gloria moved to Cedar Crest retirement community where she enjoyed a full and active life. She made many new friends, as well as reconnecting with friends from Morristown. At Cedar Crest she served on the Resident Advisory Council and the Jewish Council. She especially enjoyed playing mahjong and dining with her group of friends. 
Family was so important to Gloria. She maintained close relationships with her brothers and her grandchildren, to whom she wrote weekly letters throughout her life.
She is predeceased by her parents and her husband, as well as by her brothers in law, Warren Gould and David Windsor.  Left to cherish her memory are her children, Lenore (Tom Griffiths), and Andrew (Stacey Silpe) as well as her grandchildren, Erika, Jonah, and Samara Gould, and Sara and Samuel Griffiths. She is also survived by her brothers Larry (Linda) Hochberg, and Alan Hochberg, and her sister in law, Susan Gould. 
Graveside services are at Beth Israel Cemetery, Cedar Knolls, NJ on October 25th at 2:00. Shiva will be observed in NJ. Shiva will continue at Lenore and Tom's home with friends welcome on Thursday 10/27 from 7 - 9 and Sunday 10/30 from 1 - 4
Donations to perpetuate her memory may be made to the Hebrew Congregation of Chautauqua  www.hebrewcongregationchautauqua.org