Jeanette "Shanky" Sohl Buff
Post a Message of Sympathy
|
View Messages of Sympathy
|
Printer Friendly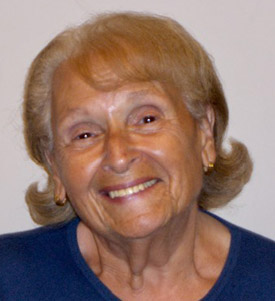 Jeanette "Shanky" Sohl Buff,101, died early Monday morning in the comfort of her home in Coconut Creek, FL. Born in Syracuse on August 7, 1921 to Clement and Ida Shulman, she was the last surviving sibling of 7 children.
She is survived by her children, Martin Sohl & the late Maxine Sohl of Syracuse, Gerald Sohl & Genia Fromm of Toronto, and Susan & Richard Wagman of Toronto as well as her many devoted grandchildren, great-grandchildren and Ellison nieces and nephews. She will be lovingly remembered for her competitive edge, her colorful cupcakes and cheese latkes and the genuine love she showered upon all who were lucky enough to know her.
Special thanks to Sharon Harriott and Semone Burgess for their exceptional care and devotion, without which she wouldn't have made it to 101.
Funeral services will be at 11AM on Thursday, October 27 at Sisskind Funeral Chapel, 3175 E. Genesse Street, Syracuse. Friends may visit with the family immediately prior to the service from 10 to11AM at the funeral chapel. Burial will be in Frumah Packard Cemetery.
The service will be live streamed on the Sisskind Funeral Service facebook page beginning at 11AM on Thursday.
Donations to perpetuate her memory may be made to Brain Cancer Foundation of Canada
519-642-7755; or Autism Speaks 646-385-8500
www.sisskindfuneralservice.com
Message of Sympathy

Post a Message of Sympathy
Dear Susan, Richard, Marty, Jerry and the whole Wagman family, My condolences on the loss of a truly wonderful woman. Her warmth and kindness was always present and she exuded love. May her memory be a blessing to you all.
Written by
Dani Manis
2022-10-25 11:31:25 PM
---
Dear Susan and Richard What a blessing to have had the joy of your Mother for 101 years...she has left a wonderful legacy. Susan
Written by
Susan Garshon
2022-10-25 4:43:42 PM
---
Dear Sohl Family and friends. We will never forget meeting Shanky at Susan and Richards home before a wedding. What a sparky friendly lady she was. Wish we could have visited her more often. She will be remembered and missed.
Written by
Lynda and Philip Brearley
2022-10-27 5:35:50 PM
---
Deep condolences and lamentations to a beautiful woman and devoted mother. Having attended several Ellison family reunions over the yaers gave me the fortunate pleasure to know Shanky. Ahavah Gadol Niles and Jonita GreenhouseMD
Written by
Niles GreenhouseMD
2022-10-31 7:07:25 PM
---