Deborah Rosen Shore
Post a Message of Sympathy
|
View Messages of Sympathy
|
Printer Friendly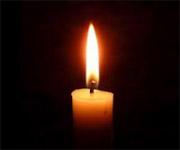 Deborah Rosen Shore passed away on Friday, October 21.
The funeral will take place on Sunday, October 23, graveside
at 10:00 AM in the STOCS cemetery, 126 Jamesville Avenue, Syracuse
(A right turn from E. Colvin Street after you pass Beth El Cemetery)
Shiva will be observed at the Rabbi's home on:Sunday October 23: 2:00PM.to 5PM
and 7:00PM - 9:30PM; Monday – Thursday from 10:00AM. - 5:30PM and 7:00PM - 9:30PM;
and then on Friday from 10:00AM. - 2:30PM.
Donations in Deborah's Honor made be made to
The Deborah Shore Mikvah Fund at STOCS or
The Deborah Shore Kitchen Fund at STOCS
www.sisskindfuneralservice.com
Message of Sympathy

Post a Message of Sympathy
So sorry for your loss. From what stories you always told she was such a sweet lady.
Written by
Eli Goldstein
2022-10-23 12:36:34 AM
---
Rabbi,Dov, Ari and family our heartfelt condolences to you all. Deborah was such a wonderful and welcoming woman. A true Proverbs 31 woman. May the Lord comfort you together with all mourners of Zion and Jerusalem.
Written by
Elizabeth and Sandy Moldenhauer
2022-10-23 1:08:17 PM
---
May her memory be for a blessing.
Written by
Scott & Deborah Mackler / Friedman
2022-10-24 3:16:24 AM
---
Rabbi Shore, sending you and your family heartfelt condolences and healing thoughts and prayers. May Hashem guide you through this difficult time. May Deborah's memory always be for a blessing.
Written by
David and Diane Sacks
2022-10-24 5:01:08 AM
---
Don and I are so so sad hearing of Deborah's death. We love you and your family so much and wish you whatever consolation you can get in this very difficult time. We don't know what else to say, Evan. Bette and Don
Written by
Bette Siegel
2022-10-25 4:30:42 PM
---
Dear Rabbi Shore Please accept my deepest sympathies on your wife's passing. I know that you, Ari, Dov - and Jessica - brought her a lot of joy. I'm very sorry for your loss. Best, Alex Gordon
Written by
Alex Gordon
2022-10-26 7:15:09 PM
---