Irwin Eliott Blank
Post a Message of Sympathy
|
View Messages of Sympathy
|
Printer Friendly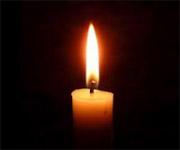 Irwin Eliott Blank, 70, passed away on September 3 in Maale Adumim, Israel. Formerly of Syracuse, he and his wife Iris made Aliyah in 2008.
Born in the Bronx, Irwin had come to Syracuse in 1990 where he earned his LPN and was employed at Upstate Medical Center.
He was an active member of JDl, B'nai Zion, and Syracuse Jewish Federation.
His family includes his wife Iris of 42 years; their children Shira (Eli) Steiglitz, and Phillip (Tiffany); grandchildren Avriel, Asher, Rexton, and Yael; and his sister Geri (Steven) Feldman
Funeral services and burial were in Israel.
Contributions to perpetuate his memory may be made to Friends of the IDF.
www.sisskindfuneralservice.com