Sharry W. Doyle
Post a Message of Sympathy
|
View Messages of Sympathy
|
Printer Friendly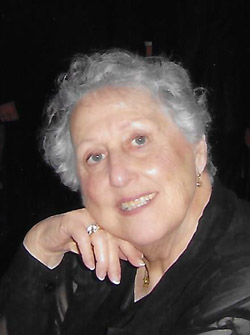 Sharry Weber Doyle, 90, ofFayetteville, passed away peacefully at Francis
House on August 21st. Sharry was born in Yonkers, NY to Gladys and Alexander Weber. She met and married George Doyle in Clinton, NY. Sharry moved to Syracuse when George attended Syracuse University College of Law and thereafter resided in the Syracuse area.
Sharry raised her two daughters, was a cancer survivor in 1959 and went on to have a successful career. She worked for many years as an accountant and in 1982 opened a small business accounting and tax preparation practice and practiced until she retired at age 89. In 1990, she proudly became an Enrolled Agent.
Sharry was involved with her community throughout her life. She was a board member and treasurer of the Syracuse Opera Company from its inception until 2009. She was co-president with her husband George of the Jamesville Dewitt High School Parent Teachers Organization. She was involved with the Syracuse Law School and the Everson Museum member's council and trip committee. She was Treasurer of the Highbridge Landing Condominium Board of Managers from 1985 until 2010.
Sharry was an avid bridge player and knitter and a treasured friend to many.
Sharry was predeceased by her husband George, and their daughter Randi.
She is survived by her daughter Dr. Bonnie Grossman (Gary), granddaughters Abby Grossman and Jenna Grossman, sister Bette
Mendes(Robert), nephews Jeff Mendes and Dr. Steven Mendes(Sarah ),and several nieces,nephews and beloved cousins.
Due to Covid restriction services will be private. There will be not be any calling hours. The funeral will be live streamed on Wednesday, August 24th beginning at 11:00AM on the Sisskind Funeral Service FaceBook page
Contributions to perpetuate Sharry's memory may be made to the Everson Museum of Art, 401 Harrison Street, Syracuse, NY. 13202.
www.sisskindfuneralservice.com
Message of Sympathy

Post a Message of Sympathy
So sorry to hear of Sharry's passing, We were neighbors for 8 years and many a summer night we would sit on her porch and talk. I missed her this year, she was a wonderful neighbor.RIP my friend
Written by
patricia baker
2022-08-24 3:18:25 PM
---
To the family of Sharry, So sorry for your loss. You are in my thoughts and prayers at this difficult time. May you find peace in the days to come. Sharry took me under her wings for several years after my several of my family members had passed. I enjoyed working and learning from her in her home. She will be greatly missed. It was a pleasure to have our paths cross. A good lady to many. God Bless. Linda
Written by
Linda DeCoursey
2022-08-25 2:07:24 PM
---
Sharry was my accountant for many years and I just loved her!! So very cheerful and always had a smile on her face. Condolences to the Family, from our home to yours. May she rest in peace.
Written by
Timothy Powers
2022-08-25 4:21:08 PM
---
Love and prayers to everyone. Rick Raymond and Iris
Written by
Iris Maxon
2022-08-26 12:31:23 AM
---
I want to extend my deepest condolences to Sharry's family and loved ones. I met Sharry through the New York State Society of Enrolled Agents (NYSSEA). Sharry chaired the first committee on which I served, and she was a supportive and wonderful mentor. She helped inspire me to volunteer and get more involved. I enjoyed seeing Sharry at our annual conferences. May I also extend condolences on behalf of the NYSSEA. Sharry will be missed and remembered by many.
Written by
Phyllis Kubey
2022-08-29 6:47:43 PM
---
So sorry to hear of your Mother's passing. Will miss her. Enjoyed the many trips with her to tax conferences.
Written by
Barbara MacDonald
2022-08-30 6:36:25 PM
---