Rosalie Rubenstein
Post a Message of Sympathy
|
View Messages of Sympathy
|
Printer Friendly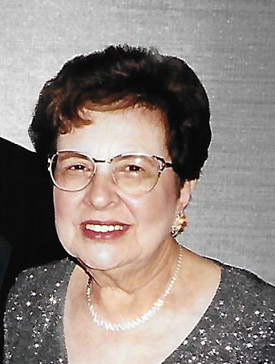 Rosalie Rubenstein, 88, passed away on Wednesday, July 27th, at Menorah Park. Rosalie was born in Syracuse on August 2nd, 1933 to Sam and Frieda Fox. Rosalie graduated from Nottingham HS in 1954. Her first job was with Woolworth's at the age of 15. She was let go when they finally found out how old she was. After several other short places of employment she went to work for Friendly Finance Co.
She met her future husband Stanley Rubenstein at age of 15 when he came to her sweet 16 birthday party.. She married him on May 30, 1953 while he was in the military service and they settled in Providence, RI while he served in the Navy at Quonset Point during the Korean War.
In 1955 they returned to Syracuse and both found jobs at Jacob's Office Equipment Co. After a period of time they purchased the company and renamed it Jacobs Business Interiors which they owned for 25 years. Rosalie was a gifted sale person and became sales manager.
Both Rosalie and her husband enjoyed giving their time to Rotary International through the Rotary Club of Eastwood and did community work for many years. Both she and her husband volunteered at the Carrier Dome concessions stand for 36 years with their share of the profit going to Eastwood Rotary. Rosalie was President of Eastwood Rotary fro 1998-1999. She was awarded the Paul Harris Fellow twice. It is the highest medal awarded by Rotary International in recognition of giving to Rotary International $1,000.00 each time.
The couple enjoyed traveling and visited many countries in Europe, Japan, Hawaii, and Argentina. Yes there is a big dump of plastic and other materials in the Atlantic Ocean. After many years of going abroad, they spent part of 18 winters in Florida visiting relatives and friends.
Rosalie enjoyed basketball and baseball. She had seasons tickets for a few years for the SU basketball team and for many years with the Syracuse Chiefs.
Surviving are her husband Stanley, sons Mark (companion Cheryl Tremper), and Hal; grandchildren Sarah, Jessie, and Jacob; and her sister Arlene Kellogg.
Graveside services will be in White Chapel, Dewitt at 2PM on Monday, August 1st.
Contributions to perpetuate her memory may be made to Eastwood Rotary Foundation, 2363 James Street, Suite 150, Syracuse, NY 13206 or your favorite charity.
www.sisskindfuneralservice.com
Message of Sympathy

Post a Message of Sympathy
My condolences to the Stanley and his family. The things that I remember most about Rose is her beautiful smile, kisses everytime I saw her and her always calling me Sweetie. She was a wonderful woman. She will be remembered foundly. All our prayers and thoughts Ed and Maxine Molloy
Written by
Edward and Maxine Molloy
2022-07-29 10:51:30 AM
---