Eugene Alken Kaplan
Post a Message of Sympathy
|
View Messages of Sympathy
|
Printer Friendly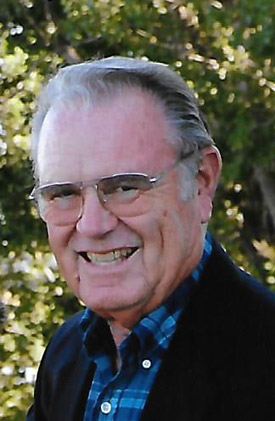 Eugene Alken Kaplan, M.D., of Cazenovia, New York, passed away peacefully at home on Sunday, July 17, 2022 at the age of 88, after having spent meaningful time with his loved ones. Gene was born in Syracuse, New York, on December 24, 1933 to David Sidney Kaplan and Florence Fleischman Kaplan. In 1960, Gene met Sandra Ecker. They had an amazing 61-year marriage as well as two wonderful daughters.
Gene's most unique lifelong trait was his remarkable optimism which permeated his outlook on, and approach to, everything. Also noteworthy was his predictability, which was usually charming. He wore navy blue, enjoyed eating out, loved spending time on and in the water, and never met a chocolate mousse or turkey dinner he didn't like.
Gene was dedicated to the pursuit of excellence and joy in many areas. He was an accomplished pianist, enjoyed sailing on Cazenovia Lake, and prioritized consuming excellent wines - on his own and as an enthusiastic member of the Confrérie des Chevaliers du Tastevin. His incredibly wide range of interests allowed him to engage authentically with everyone. Gene enjoyed traveling especially to New York, London and Paris with Sandy, and also explored North Africa and Asia with family.
After graduating from Nottingham High School, Gene earned a B.A., magna cum laude, in 1954 from Syracuse University. He went on to earn his M.D. from the SUNY Health Science Center at the Syracuse College of Medicine in 1957. He worked as a medical intern at Albert Einstein Medical Center in New York City, and then returned to Syracuse in 1958 to complete a psychiatry residency at SUNY Upstate Medical University. This began what turned into a 60-year career at Upstate where he was employed until his passing and where he held many positions, including Director of Residency Training, Director of Undergraduate Education, Director of the Behavioral Science Program, Chair of the Department of Psychiatry, and tenured Professor. His distinguished career included numerous committee roles and honors, including the President's Award for Excellence in Professional Services in 2015. In 2020, the American Psychiatric Association awarded him the status of Distinguished Life Fellow and for 24 years he served on the American Board of Psychiatry and Neurology's Exam Committee.
In addition to his dedicated career in teaching and psychiatry, Gene served as a Commander in the United States Navy Medical Corps and the United States Navy from 1967 to 1969.
Gene is survived by Sandra, his daughters Susan (Chris) Lue and Karen Kaplan, and four fantastic grandchildren, Nicole and Derek Lue, and Jaden and Taem Kaplan. A private burial at Evergreen Cemetery took place on July 20, 2022. After more than 50 years of living on the lake, Gene would have been so pleased for any donations to be made in his name to the Cazenovia Lake Association at www.cazlake.org to continue to preserve its beauty and health.
www.sisskindfuneralservice.com
Message of Sympathy

Post a Message of Sympathy
A splendid physician, friend and colleague, Gene will be missed by all that had the pleasure of his acquaintance.
Written by
Daniel Rabuzzi MD
2022-07-24 2:58:56 PM
---
My condolences to Sandy and the rest of the family. Gene was a very special person who will be missed.
Written by
Jef Sneider
2022-07-24 5:11:02 PM
---
Sandy and family, I am so sorry for your loss. Please know that my thoughts and prayers are with all of you. Sandy,I know it's been a long time since we worked together, but I'm hoping you remember me.
Written by
Cheryle Weeks-Daniels
2022-07-25 2:30:12 PM
---
Deep condolences and lamentations to a brilliant physician and family man. Hours of lectures and sound advice made psychiatry interesting to all. May G-d comfort you among all the mourners of Zion and Jerusalem. May the entire family be comforted from heaven; and may you know no further sorrow. Ahavah gadol Niles GreenhouseMD and extended family
Written by
Niles GreenhouseMD
2022-07-26 7:30:44 PM
---