Miriam Stern Kavanagh
Post a Message of Sympathy
|
View Messages of Sympathy
|
Printer Friendly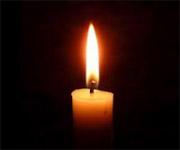 Miriam Stern Kavanagh 97, died Sunday, July 3, 2022 at the Daughters of Sarah in Albany due to pancreatitis. Miriam was born in Manhattan on May 25, 1925 to Annette (Chelnick) and Harry Stern. The family also included her brother Robert.
She was a graduate of Central High School, Syracuse. Miriam worked for General Electric during World War II at the Electronics Inspection Section for the Army Air Forces, then Syracuse University prior to motherhood.
As a housewife she worked part time with the E.C. Hooper telephone surveys, and then worked for 20 years for JC Penney in the catalog department at the Shoppingtown, Dewitt location.
Always an active volunteer, Miriam was a longstanding member of the PTA; a Girl Scout Cookie Chairperson; a member of Ladies Auxiliary of the Jewish Home; and was awarded Temple Beth El's prestigious Woman of Valor Award by the sisterhood of the Temple..
One of the last of her generation, Miriam was an unsung hero, a self taught scholar who believed in lifelong learning via reading, listening, traveling, talking and laughter.
Her legacy is the love and pride she took in other's accomplishments.
Devoted to friends and family Mimi was predeceased by her husband of then 51 years Arthur Leonard Kavanagh.
Her family includes her children Paula (John) Neubauer of Clifton Park, NY, Renée (Harvey) Susman of Wantagh, NY, Ronald (Shira) Kavanagh of Silver Spring, MD
and Cheryl (James) Farewell of West Bend, WI; 9 grandchildren, 12 great grandchildren along with numerous pseudo grands who adopted her over the years
Graveside Services will be at noon on Tuesday, July 5 beside her husband in Workman's Circle Cemetery in Syracuse.
Contributions to perpetuate her memory may be made to The Daughters of Sarah:
https://www.daughtersofsarah.org/massry-residence-assisted-living/ where Miriam spent the last five years in the care of the incredibly supportive staff who enabled her to live life to the fullest of which she was capable; or to support education through The Book Fairies https://thebookfairies.org/
www.sisskindfuneralservice.com
Message of Sympathy

Post a Message of Sympathy
I am very sorry for your loss. Your Mom was a terrific lady.
Written by
Daria Watson
2022-07-08 4:04:52 AM
---