Edwin Jim Biron
Post a Message of Sympathy
|
View Messages of Sympathy
|
Printer Friendly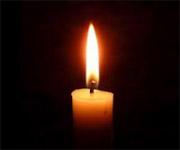 Jim Biron, 98, a native of Philadephia, and a longtime resident of Syracuse, NY and Longboat Key, FL died peacefully Tuesday evening in the comfort of his home. Jim was a graduate of Penn State, and the former Vice President of Roy's Furniture of Syracuse.
A WWII veteran, he was awarded the bronze star for his service in Tunisia and Italy.
Jim was a long-time member of The Longboat Key Club, Temple Adath Yeshurun of Syracuse, and Temple Beth Israel of Longboat Key.
His beloved wife Barbara passed away in December of 2021 They had been married for 72 wonderful years.
He is survived by their daughter Suzanne (Murray Plotkin) Biron Yellen; their grandsons Benjamin (Jenny) Yellen, and Jeremy (Sasha) Yellen; and their great grandsons Jacob Yellen, and Tsumugi Yellen.
Contributions to perpetuate his memory may be made to a charity of one's choice. 
Graveside services in the Adath Yeshurun Cemetery will be at 11:30 on Wednesday, July 6 www.sisskindfuneralservice.com