Rita Shapiro
Post a Message of Sympathy
|
View Messages of Sympathy
|
Printer Friendly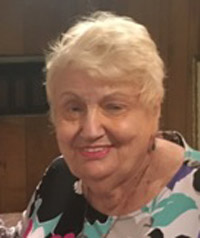 Rita Shapiro, 90, born in Montreal, Quebec, Canada, passed away on Wednesday at Loretto. Rita was a medical transcriptionist for 28 years at PHP in Syracuse, NY. She also worked at the Royal Globe Insurance Co. and Travelers Insurance Co. While living in Montreal she worked for the Dept. of Defense production. Rita earned her associates degree from Sir George Williams College, and also was a graduate of Alexanders Business College. Rita was a member of Temple Adath Yeshurun, and HAZAK; a senior group and social group at Temple Adath of which Rita proudly served as the recording secretary.
She was pre-deceased by her husband Irving.
Her family includes her children Marla of Dewitt, and Jeffrey of Chicago; her sister Blossom Wiltzer of Montreal; nieces Allie Mayers, Gwen Wiltzer, and Lois Mayers; nephews Sam, Jamie and Lorne Mayers.
Graveside services will be on Friday, July 1 at noon in Adath Yeshurun Cemetery.
www.sisskindfuneralservice.com
Message of Sympathy

Post a Message of Sympathy
Auntie Rita was a warm, sweet and funny person. Even though we lived in different cities we were lucky enough to have a close relationship with her. She took such pleasure in knowing about the accomplishments of both Lois and me and of our children, her great niece and nephews. We always had fun phone calls together and when she came to Montreal it was a special treat. Auntie Rita loved life and was proud of her associations with many social groups where she played prominent roles. She will be missed but will always remain in our hearts. Our deepest condolences go out to Cousins Jeffrey and Marla and of course to Blossom, her beloved sister. Baruch Dayan Emet.
Written by
Lois and Lorne Mayers
2022-06-30 1:53:26 PM
---
Even though we lived far away And I have not seen her in A while, Her memories will always remain with me.She was Witty and Unique. Always made me Laugh. I will miss her alot...
Written by
Gwen Wiltzer
2022-06-30 4:20:59 PM
---