Alan Byer
Post a Message of Sympathy
|
View Messages of Sympathy
|
Printer Friendly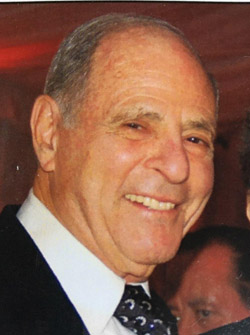 Alan Byer was born in Syracuse NY on December 8th 1923. Alan graduated from Nottingham High School and Syracuse University, where he took pre-medical courses. He served in the US Navy during World War II aboard the USS TODD - an assault cargo ship during the Pacific Theater of war. Alan decided upon returning to the US that medical school was not for him, and he decided to enter the automobile business. Over the years, he was very successful, owning and operating several dealerships, multiple franchises, and a body shop. He was president of the Syracuse Automobile Dealers Association in 1979. The car business was his love.
His other passions were Syracuse college basketball games, as well as all sports, dogs, opera and classical music, and doing the daily puzzles in the paper.
Alan also had a great love for volunteering. When he moved to Los Angeles in the 1980's, he served 18 years teaching a class at the Braille Institute and 28 years volunteering in the ER at Cedars Sinai medical hospital.
Alan's love for his children was always immense, and vise versa. He is survived by his 5 children, Dr. Jeffrey Byer (and his wife MaryJean), Dr. Pamela Matuszewski (and her husband John), Stephen Byer, Laurie Rutter (and her husband Robert) and Dr. Debby Byer (and her husband Chris). He also has 14 grandchildren: Caitlin Rabideau, Ronald Rabideau, Jacqueline Rutter, Bryon Byer, Mathieson Byer, Cecilia Byer, Sophia Byer, Colin Byer, Nicole Byer, Courtney Byer, Edward Matuszewski, Kathryn Matuszewski, Maya Macomber and Nicholas Macomber. and six great grandchildren (Ashlynn, Asher, Aria, Anderson, Alden, and Axel Rabideau). He is further survived by Susie Lancaster, his dear beloved significant other, who was with him for the last 8 1/2 years, until the end.
Alan was a people person,with a sharp wit, forever enjoying Hillcrest Country Club in Los Angeles, and all of their doings. He was a man of honor and loyalty, always a gentleman and a true friend to many.
Alan will be remembered as a star shining bright. He lived simply, loved generously and cared deeply and was a dear and fine person to have in our lives. He turned every disadvantage into an advantage. His positive attitude was contagious and he lived a long and happy life.
Burial in Adath Yeshurun Cemetery, and a celebration of Alan's life are private.
Message of Sympathy

Post a Message of Sympathy
Dear Byer Family, Please accept my deepest sympathy for Alan's passing. His life created blessings for so many others, he left this world better for being here. I will miss the humor and kindness he always displayed in our conversations. With Sympathy Mary Anne Cody
Written by
Mary Anne Cody
2022-05-27 1:27:47 AM
---
Sincere condolances and lamentations to a wonderful and kind family.Alan will always be remebered for his hard work ethic and kindness to all.Hamakom Y'nachemetcheim or May you be comforted by G-d, your family and your community.Respectfully yours; Olum; Finkelstien;Gingold; Richelson and Greenhouse clans.
Written by
Niles GreenhouseMD
2022-05-27 2:39:34 PM
---