Sheila Freundlich Mofson
Post a Message of Sympathy
|
View Messages of Sympathy
|
Printer Friendly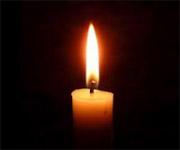 Sheila Freundlich Mofson, 83, passed away Sunday morning in Virginia. Born in Brooklyn on March 25, 1939 to Samuel and Ruth Freundlich, she had been a resident of Syracuse for nearly 40 years.
She was a graduate of Brooklyn College with a degree in Math. For most of her professional career Sheila was a piano teacher specializing in teaching the early stages of music to young children. She taught hundreds of children the beauty and appreciation of music. When she was in her late 30's she commuted to Ithaca College to earn her Master's degree in Music education.
Sheila was an active member of Congregation Beth Sholom Chevra Shas, and was a former President of the Board of directions of the Congregation. She served as the lay Cantor for the High Holy Day services for many years; and was always active in different music groups and choirs.
She and her late husband Ed of blessed memory were avid SU basketball fans.
Shelia was pre deceased by her husband Ed; their daughter Phyllis; and her brother David Freundlich.
Her family includes her daughter Marcia Mofson and her husband Jeff Dannick; her son-in-law Terry Sullivan; grandchildren Samantha, Eli, Rachel, and Jonas; and a close knit circle of friends who were like family.
Graveside services will be at 10AM on Wednesday, May 11 in the Beth Sholom section of Oakwood Cemetery. Shiva will be observed at Marcia and Jeff's home in Virginia.
Contributions to perpetuate her memory may be made to Congregation Beth Sholom Chevra Shas; the Leukemia and Lymphoma Society; St. Judes Hospital; The Nature Conservancy; of the Pozez Jewish Community Center of Northern Virginia.
Message of Sympathy

Post a Message of Sympathy
I believe Sheila and I were counselors at camp HES (Hebrew Educational Society) in the mid-late 1950's. If her older brother was a jet pilot, although I never met him, then I am recalling the right person. Sheila was a bunk and music counselor with a beautiful voice and a personality to match. My deepest sympathies to her family at her loss. She was truly an exceptional person. Siskind, please forward this message to her family members. Thank you.
Written by
Allan Brooks
2022-09-24 2:34:39 AM
---