Ettarae Alpert
Post a Message of Sympathy
|
View Messages of Sympathy
|
Printer Friendly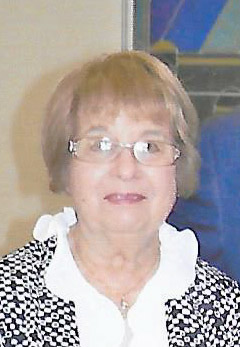 Ettarae Alpert, 89 passed away Monday morning at Menorah Park surrounded by her loving family. Born on September 15, 1932 to Myron and Belle Lipsy, she had been a life resident of Syracuse.
Ettarae was a graduate of Nottingham HS at 16 years of age, and then received her bachelors degree Magna Cum Laude from SU. She was the first female advertising director at Flah's and Co., and then the first female advertising director at Dey Bros. She then was the production and advertising coordinator for Podiatry Today Magazine.
The Alpert family was one of the original founding families of Congregation Beth Sholom Chevra Shas in 1962. She was honored to have served as the second president of the sisterhood of the congregation, as an active member of the board of directors, and served as the chairperson of Frumah Packard Cemetery. She was a member of Hadassah, the auxiliary of Menorah Park, and Na' Amat who awarded her the Woman of Achievment in 2013.
Her beloved husband Hecky passed away on March 25, 2021. Ettarae passed away on their 68th anniversary.
Her family includes their children Mark, Susan (Dr. James) Litynski, Carol (Greg) Dyson, and Robert (Amanda); and grandchildren Aleksander, Gillian (Harry), Sara, Jacqueline, and Hannah; and her brother Bernard (Karen) Lipsy.
Graveside services in the Beth Sholom section of Oakwood Cemetery will be at 11AM on Thursday May 5. All are welcome; masks are required.
Contributions in her memory may be made to Congregation Beth Sholom Chevra Shas, PO Box 271, Dewitt, NY 13214
www.sisskindfuneralservice.com
Message of Sympathy

Post a Message of Sympathy
I am so sorry to hear about the passing of such a wonderful person. She was always very kind to Victoria and myself. My heart goes out to her family and all who loved her.
Written by
SUZANNE ALPERT
2022-05-03 4:36:35 PM
---
To the whole Alpert Family, I am so sorry for this hard loss of your Mom, who, along with your Dad, we enjoyed visiting with throughout the years. Our parents' lives were so enmeshed. Love and support to you all. May her memory be for a blessing.I know both your parents will be with you always. Jackie Leffert Rubenstein
Written by
Jackie Leffert Rubenstein
2022-05-04 5:11:06 PM
---
I met Ettarae when I joined the Renegades Book group in Fayetteville. I was immediately drawn to her for her no nonsense personality which seemed to match my own. But I really appreciated her when I was diagnosed with breast cancer and she volunteered her experience and support. I know she missed her husband and her friend Lois. It was hard for her to go on without them. I will miss her always. May she rest in peace.
Written by
Sharon Sullivan
2022-05-05 1:05:24 AM
---