Robert Raful
Post a Message of Sympathy
|
View Messages of Sympathy
|
Printer Friendly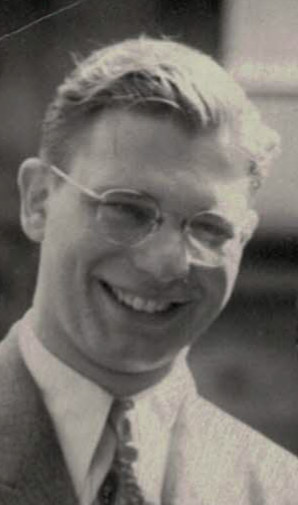 Robert Raful, son of Mollie and Joseph Raful, brother of Carol Tager (Leon) and Alice Lev (Irving), passed away on Friday, March 4, 2022 in Syracuse, NY. Bob celebrated his 99th birthday at the end of January 2022, and was pre-deceased by his older sister Alice, and his loving wife of over 70 years, Susy Raful.
Bob was born in Akron, Ohio, and spent his youth in northeast Ohio, graduating from Newton Falls High School in 1940. He enrolled at Kent State University, but his time there was interrupted by World War II, and he later finished his B.A. at the University of California. He enlisted in the US Army after war broke out, and eventually landed in Europe in mid-1944, as a private in Patton's Third Army. While he liked to tell everyone that he oversaw the company band (not a formal group but men that played together when they could), he was, in fact, part of the graves registration detail of his company. Wounded in the Battle of the Bulge, he was evacuated to London to recuperate, and then rejoined his unit in time for the Allies victory over the Axis powers.
Shortly thereafter, Bob's unit was stationed near the village of Volary (in what is now part of the Czeck Republic), and his company band played for a dance, inviting some locals as well as some women who were recovering from what has become known as the Helmbrecht Death March (see more about this at the Yad Vashem web site). Two English-speaking Jewish girls from Budapest, survivors of the march, attended that dance, including a young girl who caught his eye, Zsuzana Taubner. Leaving the dance that night, Zsuzana told her sister Mary, "one day I will marry that man". Bob was so entranced that he wrote home to his parents shortly afterwards "I met a girl.....". Though only together for a week before Bob's company moved on and Zsuzana returned to her Budapest home, they corresponded regularly, and in 1947, a year after he received his B.A. from the University of California, Bob proposed via a letter (no Internet or Zoom at that time). Zsuzana (now Susy) left her home, parents, and sisters at the age of 21, having recovered from the TB she had contracted in the German concentration camps, and landed in New York in the middle of June of 1947. Five days later, Bob and Susy were married, and they moved to the San Francisco area where Bob's parents lived. Bruce was born in 1948, and Larry, in 1950. Bob took a couple of odd jobs during that period, but when the Korean War broke out, Bob was recalled to active duty. Having obtained a college degree, Bob was assigned to work at Hamilton Field in Novato, and then to the Flood Building in San Francisco, working on personnel assignments to Korea. His superiors noted his outstanding work in the personnel field, and he was offered a commission in the newly formed US Air Force. Now living in San Francisco's Richmond District, Bob and Susy decided to accept the Air Force's offer to be reassigned overseas, and Bob became the personnel officer for a squadron of high-altitude spy planes during the Cold War, stationed near Frankfurt, Germany only nine years after the end of World War II. After three years in Germany, the Air Force offered Bob the opportunity to obtain a Masters Degree, and in 1958, the family moved to Syracuse NY so Bob could complete his program. This led to a position in the Pentagon in 1959, in the Air Force personnel office, but in 1962, Bob became a professor at the US Air Force Academy in Colorado Springs, teaching the Air Force's first-ever Labor Relations courses to Academy cadets. Six years later, Bob moved back to the Pentagon, and headed the Labor Relations office of the Air Force. His military career spanned 30 years, and during that time, he earned a Bronze Star (with valor and oak leaf cluster) for heroic achievement in a combat zone, Air Force Commendation Medal, Military Merit Medal, Good Conduct Medal, Meritorious Service Medal, and many others. For this exemplary service, Bob was recognized, in 2015, by the California Legislature as his district's Veteran of the Year.
After retiring as a Lt Colonel from military service, Bob remained in the DC area, working for a local college, then took a position in California's High Desert, becoming the Dean of Administration at Cerro Coso Community College in Ridgecrest. In 1977, Bob became the Dean of Administration at the University of Judaism (now American Hebrew University), but his sole job was to move the entire campus from its old site in the Hollywood area to a new campus, under construction when Bob was hired, atop Mulholland Drive in Los Angeles. Bob remained at "UJ" for many years, developing a love for the Jewish people and for Judaism, a love that consumed him for the remainder of his life. Finally retiring in 1989, and with son Larry having moved out of Los Angeles to Omaha, Bob and Susy moved to Santa Rosa, where the two would spend their remaining years together. Bob became active in local affairs, serving on a town advisory board, but focusing the bulk of his energy on his Synagogue, Beth Ami, and the Jewish people (Bob and Susy visited Israel every year, for 27 straight years, at holiday time, and had many Israeli friends). Bob relished his two sons, their wives (Harriet Levy Raful and Dinah Maurer Raful), and his five grandchildren (Sarah, Anna, Leah, Aaron, and David) as well as ten great-grandchildren, because in large part, they were a living legacy for Bob and Susy that Am Yisrael Chai (the Jewish people live).
After Susy passed away in 2018, Bob moved to San Rafael, to be near his older son Bruce, and last year, to Syracuse NY to be near Larry. He made many friends during the last three years at the two assisted living facilities he was a resident of and will be missed by them. He will be most especially missed by his two sons and their families, and by his great grandchildren (Mollie, Eva, Ori, Abe, Harry, Jack, Saul, Ian, Leia, and Hope). He will be especially missed by his adoring sister Carol as well as by his Hungarian relatives including the Toroks, the Kadars, the Lastofkas, his sister-in-law Edit, and his "adopted" granddaughter in Israel, Zsusi Ben Dor.
Private burial services have been held. Donations may be made to any philanthropy of your choice in his memory.