Frank B. Goldberg
Post a Message of Sympathy
|
View Messages of Sympathy
|
Printer Friendly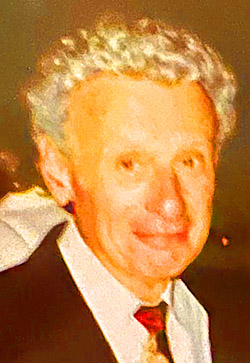 Frank B. Goldberg passed away early Sunday morning at his home in Boynton Beach, FL. He was 92 years old. Frank is survived by his daughter, Joan Picone; his son and his daughter-in-law, Andrew and Beth Low Goldberg; his grandchildren, Benjamin, Julie, and Gregory Goldberg, Gregory's wife Camilla and the great-grandchild due to be born to Greg and Camilla next month. He is also survived by his nephew Richard Levin, his niece Donna Hodis, their respective families; and his sister-in-law Dorothy Pemstein and her family. He was predeceased by his wife Beverly Goldberg; his sister Roz Levin; and his brother Leonard "Skippy" Goldberg.
Frank was born in Syracuse, NY on May 2, 1929 to Benjamin and Dora Goldberg. He was raised on Scottholm Boulevard in Syracuse and attended Syracuse University where he met his wife Beverly. Shortly after graduating in 1951, Frank and Beverly married and settled down in Syracuse with Frank working in the family business, Goldberg's Furniture. Soon after, Frank and Beverly were joined by Joan, and then Andrew.
In concert with his brother, Frank ran Goldberg's Furniture for over fifty years, twenty of those as the sole President, taking pride in operating and continuing his family's business. As a lifelong resident of Syracuse, NY, Frank loved the area, especially the Jewish community in which he grew up. Frank and Beverly were longtime members of Temple Adath Yeshurun. Both believed in acting out of the concept of tzedakah by giving generously to local organizations and donating their time by participating in different groups. Frank served on the boards of Temple Adath Yeshurun, Menorah Park, the Syracuse Jewish Welfare Federation, and the Jewish Federation of Central New York. In 2013 Frank and Beverly were proud to establish a Perpetual Annual Campaign Endowment Fund (PACE) to help benefit the Jewish Community Foundation of Central New York.
Frank loved to golf and play tennis. For many years he could be found doing both at Lafayette Country Club in Syracuse or down at Hunter's Run in Florida. When not working, Frank loved to socialize with his many friends. In more recent years, after having to give up golf and tennis, he could often be found at Ruston's diner with a group of friends for the "old man lunch."
His generous and sympathetic nature will live forever in the minds of his family. The tremendous love and affection he held for his family will be cherished. His family is grateful for every second they were able to spend with this wonderful man. His presence was like a crackling fire on a winter's day, casting light and warmth on all of us around him. Finally, his grandchildren can't believe they won't get to tease him anymore for putting on a sweater whenever the temperature fell below 75 degrees
.
Graveside services will be at 11AM on Friday, March 11 in Adath Yeshurun Cemetery.
www.sisskindfuneralservice.com
Message of Sympathy

Post a Message of Sympathy
With sadness, but a feeling of fulfillment, I send my sincere condolences to Frank's family. Frank led a full life and I was fortunate to have known him for many years as both a customer, but more importantly to me, as a second father. After he left Syracuse and I followed in retirement, I always enjoyed our phone conversations. He was a true gentleman and I will miss him. Warmest regards, Bruce York
Written by
Bruce York
2022-03-10 1:22:18 AM
---
Dear Goldberg Family, Steven and I send our most heartfelt sympathy at the loss of Frank. May you find comfort in your many memories. Love, Rebecca & Steven
Written by
Steven & Rebecca Perl
2022-03-11 3:44:55 PM
---
Frank was a very special friend of the Wayne family who truly enriched our lives. He was gifted with a great sense of humor that lifted spirits and especially with the art of friendship. My sincere condolences to Joan and Andrew and the entire family.
Written by
Nancy Matlow
2022-03-11 4:27:41 PM
---