Dorothy "Dottie" Steinberg
Post a Message of Sympathy
|
View Messages of Sympathy
|
Printer Friendly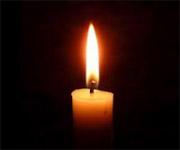 Dorothy "Dottie" Steinberg, passed away at age 99 surrounded by her loving daughters on Thursday, February 3, in Boston, MA. Dottie was born on October 11, 1922 to Jacob and Lillian Franklin in Syracuse, NY. She was the younger sister of the late Dr. Irvin Franklin.   
As a young girl, Dottie attended the Folkshul in Syracuse along with her brother Irvin and many cousins. Later, she earned a B.S. from the Syracuse University School of Home Economics. Upon graduation, she taught school just outside of Syracuse.  
She met her beloved Arthur, of blessed memory, at a Zionist youth camp and then reunited when the army transferred Arthur to Syracuse University to study chemistry and electrical engineering during World War II. Together they owned and operated the family business, Franklin Department Store on Geddes Street. They shared an almost 70-year marriage and built a home filled with Yiddishkeit.  
Upon retirement, Dottie and Arthur relocated to Royal Palm Beach, FL where they enjoyed the sun and outdoor activities for many years. After Arthur's passing in 2016, Dottie moved to NewBridge on the Charles in Dedham, MA to be closer to her family. Dottie received wonderful care while at NewBridge. Her family would like to thank the nurses and the entire staff for the love and care they extended to Dottie.  
Dottie and her family were long-time members of Temple Adath Yeshurun. She was a member of the temple sisterhood and for many years ran the Judaica gift shop at the temple. She was an active member of Pioneer Women (now known as Na'amat) and a life-long supporter of Israel.  
Dottie was an avid Mah Yongg player and enjoyed summers boating on Oneida Lake with her many cousins and extended family.  
She was pre-deceased by her husband Arthur in 2014, and their son Robert in 2012.  
Her family includes her daughters Carol (Peter Yaffe) Steinberg, and Cindy Steinberg; grandsons Eric (Brooke) Yaffe, and Jonathan (Amy) Yaffe; great-grandchildren Matthew, Olivia, and Emmett; her sister-in-law Judith Franklin; and a loving extended family.  
Graveside services will be at 11 AM on Sunday at the Temple Adath Yeshurun Cemetery. Contributions in Dottie's memory may be made to the Solomon Schechter Day School of Metropolitan Chicago, 3210 Dundee Rd, Northbrook, IL 60062 and Na'amat USA, 21515 Vanowen Street, Suite 102, Canoga Park, CA 91303.
www.sisskind funeral service.com
Message of Sympathy

Post a Message of Sympathy
Mrs Steinberg was our neighbor on Ridgecrest. She and her husband were very nice and we would see then at Temple Adath so often. A very gracious person and I send my condolences.
Written by
Sybil Schultz
2022-02-04 4:21:40 PM
---
Dorothy was my next-door neighbor on Revere Road (1968-1980). She gave my family a warm welcome when we arrived in Syracuse. Dorothy, always remained a helpful neighbor, and her kids babysat for my kids. Fond memories.
Written by
Mark Watkins
2022-02-04 7:47:18 PM
---