Lawrence Sampson
Post a Message of Sympathy
|
View Messages of Sympathy
|
Printer Friendly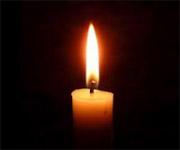 Lawrence Sampson, 92, passed away peacefully surrounded by family on January 5, 2022. Mr. Sampson was born in Syracuse, New York to Betty and Victor Sampson.
He was a graduate of Nottingham High School, and Syracuse University.
Mr. Sampson worked as a cost accountant at General Electric for over 30 years.
He has been a resident of Virginia since 1973.
He was pre-deceased by his first wife Audrey Miller Sampson
He is survived by his wife Bonnie Sampson; his children Jeffrey Sampson and his wife Renata, Gail Sampson, Amy Sampson and her husband Jeff George;
step-son Scott Weise and his wife Lanette; grandchildren Sarah Sampson, Hannah Sampson, Audra Wendel and Alana Weise; son-in-law Michael Wendel; and sister-in-law Francine Miller Goldstein.
Private services and burial were held at Gomley Chesed Cemetery, Portsmouth, VA.
www.sisskindfuneralservice.com