Helen Ribak Marcum
Post a Message of Sympathy
|
View Messages of Sympathy
|
Printer Friendly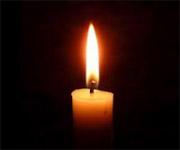 Helen Ribak Marcum, 86, of Manlius died January 4 at home in her sleep. Born in Brooklyn she started her career as a volunteer while attending high school by helping to serve dinner trays to patients at a local hospital. She moved to Syracuse in 1955. Helen was a past president of The National Council of Jewish Women Syracuse Section, The NCJW Evening Branch, and was a member of the National Board of NCJW. Helen also served as President of the Jewish Community Center of Syracuse, the Syracuse Jewish Federation, and the Syracuse Federation of Women's Clubs (SFWC). In addition, she was on the Board of Directors of the GFWC-New York State Federation of Women's Clubs serving as Treasurer, Parliamentarian, and Finance Chairman~ a position she held since 2004. She was appointed chairman of the Syracuse Commission for Women by Mayor Thomas Young. She was Treasurer of the Advocates for Girls, Inc., the Ida J. Butcher Scholarship Fund, and the Syracuse Federation Formers.
Helen received the NCJW Hannah G. Solomon award, presented to honor someone who has changed the lives of others through their leadership efforts and service, in 1985, and was recognized by the Syracuse Post-Standard as a Woman of Achievement in Volunteerism in 1989. The Syracuse Jewish Federation presented her with the Esther & Joseph Roth award for outstanding leadership in the Jewish Community in 1990 and she was named Club Woman of the Year by the New York State Federation of Women's Clubs in 1992. The senior adults of the Jewish Community Center honored her in 1996 for her dedication to senior adults, Advocates for Girls presented her with the Voice for Girls Award in 2005, in 2006 she received the Caring Friend to Others Award from the Salvation Army Auxiliary, and in 2016 she received the Jewish Community Center of Syracuse Hall of Fame Award.
In addition to serving others as a volunteer, Helen loved travel, the theater, her weekly Mah Jong game with good friends, and going to the Senior Adult Dining Program at the Syracuse JCC. She was a remarkably gracious antique car wife, joining her late husband for many years at various car shows.
She was predeceased in 2014 by her husband Stanley of 60 years; in 2010 by their daughter Sue, and in 1998 by her sister Nina Ribak Rosenthal. Surviving are her son Alan (Barbara), of Palo Alto, CA; two grandsons, Joshua, of Las Vegas, NV, and Rayden of Waltham, MA; and several nieces and nephews.
Graveside services will be held at noon on Friday, January 7th, in the Temple Concord section 30 of Woodlawn Cemetery. The service will be live streamed beginning at noon on Friday. Sign in to Facebook, search for the Sisskind Funeral Service page and the stream will begin automatically.
In lieu of flowers, contributions to perpetuate her memory may be made to the Senior Lunch Program at the Syracuse Jewish Community Center; The Sue Marcum Scholarship Fund, Kogod School of Business at American University, 4400 Massachusetts Ave., NW, Washington, DC 20016
or The Marcum Family Endowment for the Arts at Manlius Pebble Hill School
5300 Jamesville Road, DeWitt, New York 13214
www.sisskindfuneralservice.com
Message of Sympathy

Post a Message of Sympathy
Aunt Helen was a magnificent woman. She gave selflessly of herself, and was an absolute pillar in the Jewish Community. I will always remember her depth of humor, sincerity, openness, and kindness. She had a huge smile that could make anyone feel welcome, and a laugh that would tickle your ribs. If there really are angels, no doubt Helen is one now, as she was in life.
Written by
Karen Rosenthal
2022-01-05 5:58:13 PM
---
Helen was a wonderful person with a beautiful heart and a fantastic sense of humor. Meeting her through the SFWC, she made me feel welcome and comfortable. I will miss her. Your family is in my prayers.
Written by
Amy Canavan
2022-01-05 9:35:46 PM
---
Dear Alan: Please accept our sincerest condolences. Your Mom was truly a Woman of Valor, a shining example of a Righteous Person, and a true mensche. She set a formidable bar for all of us to strive for. Thank you for sharing her with us. May her memory be a blessing forever. Sincerely, Ellen & Howard Weinstein
Written by
Ellen Weinstein
2022-01-07 3:59:32 PM
---
To Alan and family, We send our condolences on the loss of your mother, Helen.
Written by
Diana and Moshe Cahill (Fay)
2022-01-07 6:03:39 PM
---
Alan our deepest sympathies. Chuck Fay, Jeanne Grossman
Written by
Charles Fay
2022-01-08 3:02:42 PM
---