Jack Schultz
Post a Message of Sympathy
|
View Messages of Sympathy
|
Printer Friendly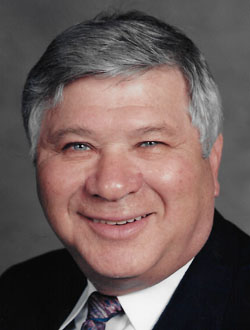 Jack Schultz, 93, died Thursday morning at Crouse Hospital.
Born on October 26, 1927 in Brooklyn to Samuel and Rose Schultz, he had been a resident of Syracuse since 1958.
Jack attended Erasmus HS in Brooklyn, graduated from Newtown HS in Queens, earned his undergraduate degree from Syracuse University, and his law degree from SU as well. He was a proud brother of AEP fraternity.
He was a practicing attorney in Syracuse for more than 60 years.
Jack served as a Town of Dewitt judge from 1974 to 2009. He was a well respected judge known for his honesty, fairness, and compassion. The town of DeWitt honored Jack with naming the courtroom after him.
He proudly served in the US Army from 1946-1947. He trained at Ft. Knox and was stationed in Ft. Lewis where he was a Morse code radio operator.
He was a great member of Dewitt Rotary and supported the efforts of Rotary to give back to the community... his "Mickey Mouse" pancakes were legendary. He was also a member of Temple Adath Yeshurun, Onondaga Post 131 of the Jewish War Veterans, a past President of the Onondaga County Magistrates Association, and the Bar associations of NYS and Onondaga County.
Jack was an ardent fan of SU sports dating back to the days of Archibald, and Manley. He also was a fan of the Chiefs.
His family includes his wife Sybil of more than 54 years, their sons David, Seth (Angie), and Eric (Sean), and grandchildren Laiken, Maddie, and Sam.
Everyone is welcome and invited to virtually attend Jack's service by live stream on Tuesday, March 30 beginning at 9:55AM on the Sisskind Funeral Service Facebook page.
Contributions in his memory may be made to Temple Adath Yeshurun, or DeWitt Rotary, PO Box 131, DeWitt, NY 13214
Message of Sympathy

Post a Message of Sympathy
A true gentleman, mentor and father figure to me. He will forever be the best boss I ever had. A piece of my heart is missing. Hugs to the family.
Written by
Heide Newbury-Halliday
2021-03-26 10:04:16 PM
---
May he rest in peace.
Written by
Jonathan Borsky
2021-03-26 11:13:15 PM
---
I am so sorry for your loss. He was a wonderful man. My heartfelt condolences.
Written by
Stan Knoller
2021-03-26 7:05:56 PM
---
Dear Sybil and Family. We were shocked and saddened to learn that Jack had died. I tried to call, but could not get through. Please let us kmnow if we can do anything. Rosalie and Larry
Written by
Rosalie and Larry Young
2021-03-27 10:23:07 PM
---
Dear Sybil So sorry to learn of the loss of your dear esteemed husband, attorney Judge and so much more. My heart goes out to you and your family Love, Steffi Stryker Morgenstern (remember me from Univ of Miami roommate)
Written by
Stephanie Stryker Morgenstern
2021-03-27 12:43:56 AM
---
Such a compassionate, kind person of many talents. He will be greatly missed by family, friends and all others he knew. May he be a blessed memory to us all.
Written by
Iris Evans
2021-03-27 7:51:04 PM
---
Our deep sympathy to you and your family on Jack's passing. We were enriched by his friendship, he will be missed. I send my love to you, David, Seth and Eric. Roberta Wladis
Written by
Roberta Wladis
2021-03-30 1:59:27 PM
---
The Honorable Jack Schultz was a fellow town judge who I have known and admired for 29 years. He strived to craft the best justice possible. He was down to earth, caring, and genuinely interested in getting to know everyone he met. He was fascinated with the world around him and loved interacting with people on ideas to make things better. This remarkable man as left a void.
Written by
Ed Van Der Water
2021-03-30 6:18:40 PM
---
emet or truth and kindness had kissed to create a marvelous man.Deep condolences and bitter lamentation to a beautiful family. A career full of compassion and love will never be replaced. Respectfully your Niles and Jonita GreenhouseMD and extended families
Written by
Niles GreenhouseMD
2021-04-06 1:21:08 PM
---