Scott T. Saroff
Post a Message of Sympathy
|
View Messages of Sympathy
|
Printer Friendly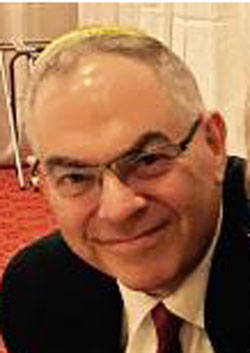 Scott T. Saroff, 65, died Wednesday, November 11th at Menorah Park.
Born in Boston on May 17, 1955 to Leonard and Irma Saroff; he came to Syracuse to attend SUNY ESF in 1973, then continued his education at SU where he earned a degree in geology, a masters degree in geology,
and also PhD level course study in Geology at SU as well.
Scott had been an adjunct professor of contaminated hydrogeology and contaminated waste management at SUNY ESF.
While in graduate school he also was the head paramedic for Eastern Ambulance. He served on the boards of Temple Concord, and Menorah Park.
During his professional career Scott first worked for the NYS attorney generals office in Albany where he investigated Onondaga Lake and Love Canal. He then worked for the EPA, at The Roy F. Weston Company. He was a former partner at the environmental consulting firm Blasland, Bouck &Lee of Syracuse. Subsequently Scott was a senior consultant at several other national environmental consulting companies. Most recently he was a senior project manager at FPM Remediations Incorporated of Oneida, NY.
Scott will forever be remembered for his love of science and the environment, and making the world a better and cleaner place to live.
His family includes his wife Deborah, children Jeremiah, Bridget, Monica, and Katrina; his brother David Saroff; uncle Lester Saroff; and a large and loving extended family.
Contributions in his memory may be made to Menorah Park. https://menorahparkofcny.com/supporting-menorah-park/
Message of Sympathy

Post a Message of Sympathy
Scott was a longstanding personal friend and professional colleague. Over the 25+ years I knew Scott he always focused on others, working tirelessly to help those who needed his expertise or assistance. He greatly valued his family, friends and his relationships. His honesty, selflessness, trustworthiness and humility will be his lasting legacy. Those of us he has left behind will work to realize his dream and live up to the high standards he possessed. Cyndy and I send our condolences to Deb and his children at this difficult time.
Written by
Steve Myers
2020-11-13 10:00:47 PM
---
My wonderful and amazing husband. You were my soulmate and the only person that knew me better than I knew myself. I am blessed to have had so many wonderful years with you. You loved me unconditionally and without reservation .. always. I love and miss you dearly ... and will always be your 'sweetie'
Written by
Deborah Saroff
2020-11-13 7:36:11 PM
---
I had Scott as an instructor for Hazardous Waste Management at ESF. He was wonderfully experienced, and I felt he did a good job of emphasizing the somewhat difficult task of translating theory into practice and giving real world examples from his career and experience of how to implement things, and where things were likely to go wrong. I also had the pleasure of connecting with him to work on some therapy gardening programs at Menorah Park, and you could feel his deep respect and passion for a place that provides such compassionate care for its residents. You will be missed, Scott, but not forgotten.
Written by
Daniel Collins
2020-11-13 7:48:09 PM
---
Scott was a wonderful colleague and friend during our years together at the Attorney General's office and remained so all the years since. He was a brilliant hydrogeologist and loved sharing his passion for the environment with those who had the great fortune to work with and be mentored by him. Whenever he was in town he would be sure to schedule a get together, where we would talk "shop" but also share our personal lives and follies. Scott had a great love for his family and his wife and spoke of them often. He will be missed by many. Safe journey my friend.
Written by
Jodi feld
2020-11-13 9:03:16 PM
---
Scott was a colleague and a friend. He was someone I admired and respected. Scott was so dedicated to making the Environmental Health Program at SUNY ESF a success and was always willing to help and make use of his extended list of contacts. He was a dedicated teacher, and was always willing to listen to his students and offer them support as they worked their way from students to professionals. Scott will be missed by us all.
Written by
Lee Newman
2020-11-13 9:08:18 PM
---
Our sincere condolences and deep sympathy to family and friends of the great friend and collegue, Scott Saroff. Sending all good wishes and prayers. May Scott rest in eternal peace. The Aronsons Fort Collins, Colorado, USA
Written by
John Aronson
2020-11-14 12:14:39 AM
---
We are heartbroken by the sad news. I met and connected with Scott ten years ago as fellow family historians trying to connect all of the dots in the extended Saroff family tree. Scott was a mensch with a great smile and and always went above and beyond to track down a lead and to share wonderful family stories. He was devoted to his family and was always optimistic about the future and an eventual retirement with Debbie in Ohio, even after the difficult diagnosis over the summer. Scott was a treasure, and we will miss him.
Written by
Stuart Kaufman
2020-11-14 2:25:22 PM
---
I took Professor Saroff's hydrology and human health course at SUNY ESF and greatly enjoyed it. He was always very kind to me when I had to miss class due to medical issues I was having at the time. The knowledge he imparted in his class made an important impression on me as a scientist.
Written by
Ro Lorence
2020-11-14 3:02:00 AM
---
I am deeply saddened at the immeasurable loss of Scott Saroff, an extraordinary person of tremendous accomplishment, a wonderful friend who exemplified what it means to care; about family, about friends, about his passion for protecting the environment, about his personal causes, and about creating a better future. I first met Scott in the summer of 1969 when he joined the City of Newton's Environmental Science program. Scott and I became instant friends - bonding over our love of the environment and dedicated to its protection. We both had leadership roles in the program over a number of years and together I believe inspired the many young people who had an opportunity to be in the program. In 2017 we celebrated the 50th anniversary of the program and went canoeing on the Charles River, reliving our earlier memories from almost 50 years ago. Scott and I took many hiking trips together in the White Mountains and the Adirondacks; what I most remember is how confident and capable Scott always was in knowing the route, setting up camp, finding the best views, and being an amazing companion. Over the course of the years we stayed in touch, sharing news of our families and our professional work. Scott was always so proud of his children; and was the hardest working person I ever have known - pursuing his PhD, teaching young people, and solving some of the hardest environmental problems of underground hazardous waste sites and so many other complex projects where most importantly he made a difference. Scott was always forward looking with big dreams about the future - with his life partner and wonderful wife Debbie, with his family, with his friends, with his devotion to causes larger than himself, and in his lifetime passion of environmental protection. Scott loved all of it. Scott's passing represents an irreplaceable loss to us all, yet we can be thankful for his life, and loved being part of it; and are exceptionally fortunate to have so many wonderful memories to remind us of the good things in life. May Scott's memory always be a blessing.
Written by
Stuart Freudberg
2020-11-14 4:02:45 PM
---
I first met Scott when we opened the Syracuse office of CH2M HILL in Feb 2004. Scott was already a well respected expert and could not have been more welcoming and team oriented. We had a lot of success and fun together. We collaborated on many occasions even after our time at CH2M. I'll miss his engaging personality, passion for his work, innovation, and time spent talking our families. Deb, if there is ever anything we can do for you now or int he future, please never hesitate to ask. Godspeed Scott, there must have been some remediation work in the Good Place they needed your help with.
Written by
Matthew Marko
2020-11-14 4:35:20 PM
---
As part of Scott's extended family we send our love to Debra and his children. He was a favorite family member, always kind, always funny, smart and sincere. In his final months he continued the love and connection with family he is known for and worked to connect us all even closer. We miss him.
Written by
Carol & Tom Edmondson
2020-11-14 7:45:23 PM
---
I had the pleasure of being one of Scott's students at ESF in the Fall of 2015. His class was one of my favorites and his passion for his work was clearly evident. He truly cared about his students, even checking in on us years after we graduated congratulating us on jobs or accomplishments in our own professional lives. His memory will live on. To his family, I am very sorry for your loss. Prayers go out to you.
Written by
Cameron Schiavone
2020-11-14 9:26:18 PM
---
I had the privilege of taking Professor Saroff's courses at SUNY ESF. His enthusiasm and passion for his work was crucial in inspiring me to pursue a career in environmental health. He always brought a positive attitude to the classroom and I very much looked forward to his stories. He was a wonderful man and the students at SUNY ESF will miss him dearly.
Written by
Abbie Modafferi
2020-11-15 4:13:30 PM
---
Scott was a longtime friend and professional colleague who hired me to work for him nearly 25 years ago. He was a compassionate mentor, and his practice of science, ethics, and integrity served as a model for me throughout my career. The world could use more people like Scott. He will be dearly missed.
Written by
Keith White
2020-11-16 12:05:09 PM
---
I was able to be in the very first class Professor Saroff taught at SUNY-ESF. He was a natural at showing us exactly what we needed to know for our future careers. When teaching, he always had real life and personal examples to relate to the course material. He did it effortlessly. Amazing at making the drowsiest subjects interesting (DOT placarding), he really seemed as though he should have been teaching long before he started when we took his class. Instead of email, he told everyone to call or text him if we had questions about homework or anything else career related. Every class, he ended with how his consulting firm would want interns especially from our class. I was excited to engage him with that opportunity. Interning at FPM became my first private industry experience on the career spectrum. My first day, I wore a tie. After greeting me at my desk he said, "Lose the tie, and don't tell everyone I am a professor. Otherwise they will not let me hear the end of it." This immediately it put me at ease, and I will never forget it. It feels unfair that he had to go so early. He had more students to teach, more of the planet to save, and more love to give to his family and friends.
Written by
Michael Persson
2020-11-16 1:30:05 PM
---
As a student at SUNY ESF, I enjoyed my interactions with Scott Saroff. He put in time with his lectures, and taught us important information in order to become knowledgeable individuals in Hazardous Waste Management and Hydrogeology. Sad to hear of his passing...
Written by
Jacob Choi
2020-11-16 2:18:45 PM
---
Scott was a passionate and caring person. He really deeply cared about his family and always told me about his children and how much he was excited by their newest progress. He also loved his wife Deb very much. He was so appreciative of his marriage. Scott was a passionate scientist who cared a lot about his work and making sure the best efforts were made possible to do a good job. Scott and I were routinely in touch with one another for many years past our days of working directly with one another. It just goes to show that there's friendships that go beyond the work. He really always wanted to get his Ph.D., and did so much for others and helped others learn the sciences. He could have gotten his higher degree, but he didn't need it. He was already a resident expert and the energy he brought forward is now in others he supported. He was so optimistic in all his battles. I will miss Scott and know he was strong in heart and mind.
Written by
Andrew Coleman
2020-11-16 4:18:52 PM
---
Scott was a mentor to me over the past 7 years at FPM and I am really going to miss him. We bonded over both being "former CH2M Hill-ers" and tackling tough problems. He was always collegial, and very generous with his time, knowledge, and experience. He always had a story at the ready and always knew someone who could help! His love for his family and pride in his children was evident. He clearly touched many lives and leaves a long legacy.
Written by
Margaret Milman-Barris
2020-11-16 4:21:56 AM
---
Scott was a good colleague and friend. I was fortunate to have worked with him during our employment woth KEMRON. Scott's genuine compasion amd understanding he shared with me during a difficult time in my personal life was a major factor in me regaining control of my career direction and progress. Scott demonstrated compasion and caring at a critical point in my life. I will forever be grateful for my friendship with him. He touched my life in a way i will never forget.
Written by
Harry Bundesmann
2020-11-16 4:44:24 PM
---
Like many others, I had the privilege of learning from Scott. His ability to connect to his students through personal experience truly set him apart as a professor. From Day 1 he attempted to connect with each student on a deeper level and truly take interest in each of their potential paths in life. I will always remember the life advice Scott gave me and the talks about the future we would have before class started. More than anything I remember how much confidence Scott instilled in me to go after my goals and how proud he was of all of his students accomplishments. Scott truly did his best to not only be a great professor, but also be a great advisor and friend. He will be deeply missed. My thoughts and prayers go out to Scott's family.
Written by
Eric Schiavone
2020-11-16 4:53:29 PM
---
Scott was a long time friend and colleague, and always lent an ear for an idea or a question. Over the 30 years I knew Scott he always focused on helping others, his customers and clients, giving willingly of his expertise - while caring deeply for his family, friends and his relationships. His kind nature, honesty, and humility will be his legacy. All he brought into his close circle of associates to share his ideas and dreams - I know - will work to realize those dreams and maintain the high standards he possessed. My wife Pat and I send our heartfelt condolences to Deb and family - and you will remain in our thoughts and prayers.
Written by
Steven Fess
2020-11-16 5:31:28 PM
---
I first met Scott several years ago at a technical conference. I was excited to finally have him join me at Ch2M HILL and we spent much valuable time together. We shared a passion for Geology and creative remediation solutions. Most importantly I remember Scott for being a caring friend and co-worker, someone who could see the good in any situation. Although our paths were unable to cross as much as we would have liked. each time we met, was like we were never apart. I will miss him greatly. My condolences to Deb and your family. I always spoke so highly of you all and it was clear he loved you immensely. Blessings to you and may God comfort you in his embrace. Shalom Scott.
Written by
Bob Cipolletti
2020-11-16 5:32:35 PM
---
I will have very fond and loving memories of Scott and will miss him dearly as I'm sure all others that knew him will as well. He was such a generous man, up beat, positive, anything was possible to him. He accomplished SO much in his relatively short life! I'm sure my beautiful niece Debbie knows how very blessed she is to have had him to have and to hold as her husband. Scott and I shared the same love for "rocks", although Scott was MUCH more learned than I! In his first visit to my new home, he was quick to note the geology in my granite countertop which I was thrilled to hear about! He also brought a very special gift. A WHOLE nautilus with a print out that described in detail what I now possessed. For those of you that don't know, this is a fossilized VERY cool sea creature! This is my most favorite house warming gift, and I don't think anyone will be able to top this! LOL Scott...I know you are with God and are thrilled to be learning so much more about the geology in this earth that God created!. Love you! Love you Deb!
Written by
Suzi Gorney
2020-11-16 5:39:22 PM
---
Scott was a pleasure to work with at his time with FPM - I only had the pleasure of meeting him a couple times over the last several years and he will be remembered for his generous demeaner and always ready to help!
Written by
Randall Mattzela
2020-11-17 12:42:51 AM
---
Scott was a mentor to me for many years and I learned a great deal from him. He went from my boss way back when to a dear friend more recently. We definitely shared the love of "pretty rocks". His work ethic, perseverance, and optimism live on in those he mentored. To Deb and his family, my sincere condolences for your loss. May his memory be eternal. Lynette
Written by
Lynette Mokry
2020-11-18 1:55:34 AM
---