Beverly Cotton Goldberg
Post a Message of Sympathy
|
View Messages of Sympathy
|
Printer Friendly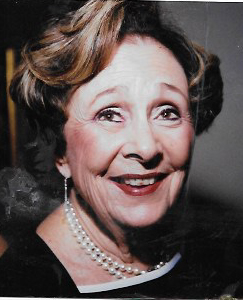 Beverly Cotton Goldberg, 90, of Boynton Beach, FL, passed away Sunday in the comfort of her home, comforted by her husband at her side. She is survived by her husband of 69 years, Frank Goldberg; their two children, Andrew Goldberg and Joan Picone; daughter-in-law Beth Goldberg; three grandchildren, Benjamin, Julie, and Gregory Goldberg; Gregory's fiancé Camilla; and sister Dorothy Pemstein of Boston
Beverly was born on September 17, 1928 in Worcester, MA to Mr. and Mrs. Harry Cotton. After graduating from The Bancroft School, she moved to Syracuse for college where she met Frank, raised a family, and became an integral part of the Jewish community. As a member of Temple Adath Yeshurun, Beverly volunteered with USY and the Sisterhood of the Temple. She was also involved in Hadassah, and Planned Parenthood. In 2013 Beverly and Frank endowed a PACE fund for the benefit of the Jewish Community Foundation of CNY.
Beverly was an avid gardener who loved being among her plants, flowers, and trees. She also grew lovely tomatoes, which she especially enjoyed sharing with her grandchildren. As a child Beverly enjoyed camping in the summer; and for the rest of her life she delighted in participating in such summer activities as swimming and boating. Her family will miss seeing her enjoy a martini or nosh a brownie, but most of all her presence.
Private graveside services are in Adath Yeshurun Cemetery.
Contributions to perpetuate her memory may be made to a deserving charity of your choice.
The service for Beverly Cotton Goldberg will be live
streamed on Thursday beginning at about 5 before noon.
Everyone is welcome to "virtually" attend the service.
To virtually attend the service:
-Log on to Facebook
-Search, and go to the Sisskind Funeral Service Facebook Page
-Touch the tab for "videos"
-The Stream will start automatically
Message of Sympathy

Post a Message of Sympathy
Beth and Family: So sorry for your loss, please know that she is at peace and will forever be a spiritual presence in your lives!
Written by
Maureen Vinciquerra
2020-07-28 5:09:50 PM
---
Our sympathy and prayers to all your family. 🙏5g6bqf
Written by
Jean & Norm Garofano
2020-07-30 3:30:05 PM
---
Tsoros and deep lamentations to a lovely woman and family.May you always remember all the good and joy she brought to everyone. Baruch HaShem Niles GreenhouseMD and family
Written by
Niles GreenhouseMD
2020-08-02 11:30:29 AM
---