Ruth Grunberg
Post a Message of Sympathy
|
View Messages of Sympathy
|
Printer Friendly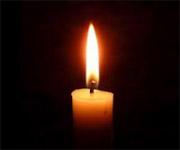 Ruth Grunberg died on March 17, 2020, at St. Joseph's Hospital in Syracuse, NY.  She was born on June 3, 1949, in NYC, and spent most of her childhood in Queens. She loved attending SUNY Cortland, and spent many happy hours working on the college newspaper.
          She was preceded in death by her parents, Judith Grunberg (maiden name Waciarz) and Irving Grunberg, who were both survivors of concentration camps in Poland.
          Surviving Ruth is her sister Eva Grunberg, her brother-in-law Mark Fox, their children Rebecca and Joshua Fox, as well as a number of cousins and friends that she loved dearly. Ruth leaves many wonderful friends, especially those in her apartment building at Riverview. She will be greatly missed by those friends. She also leaves her beloved cat, Cho-Cho Puffs. Ruth always had a special place in her heart for cats.
          Ruth was a voracious reader, and was known for her strong interest in politics, social justice, and peace. She testified before Congress when she felt the Medicare drug plan wasn't working well. She tirelessly campaigned for many Democrats over the years, both in local elections and national ones. Ruth brought people together and was always happy to teach and share her highly developed computer skills with them. She worked for the New York Times, Cornell Daily Sun, and for the ProLiteracy (New Readers) Press in Syracuse. These print skills carried over to her many volunteer projects. She developed graphics and wrote and edited many newsletters for her fellow apartment residents, for the Cortland Pro-Choice organization, and for the award-winning teen pregnancy program of the Cortland County Health Department. Ruth had a strong Jewish identity, and her many community projects included making sure that any Jewish hospitalized patients were able to get appropriate foods on holidays like Passover. 
          Ruth's funeral was held in Paramus, NJ, on March 19th at noon. It was a very small grave-side service only because of the restrictions necessitated by the Coronavirus pandemic. Donations can be made to the Cortland SPCA in her name, or to the Democratic Presidential candidate. An online memorial will be forthcoming at findagrave.com/memorial. www.sisskindfuneralservice.com
Message of Sympathy

Post a Message of Sympathy
Ruth - I will miss you. Your love of politics and causes were inspirational. It was always fun talking with you! Even when talking about serious topics, your warm smile was engaging. May you rest in peace.
Written by
Paula Davidson
2020-03-21 12:40:32 PM
---
I have sad news. Ruth Grunberg has passed away. I don't know all the details yet. She died at St. Joseph's Hospital in Syracuse on March 17th. She spent a lot of time at the Interfaith Center when I was a student and while I was student caretaker there. She was active in the student newspaper and the McCarthy campaign. She was active in many campaigns and activities of the Democratic Party. She actually enjoyed calling people and staffing Democratic Head Quarters. We celebrated birthdays and other occasions together. We often had long discussions on politics and the state of the world. She often had a commercial when you got her answering machine. I called her number just to see if I could hear her voice once more. No Ruth now. Ruth was like an aunt to my children when they were growing up. She often remembered their Birthdays with special little gifts she discovered along the way. Lately it was hard to connect with Ruth, but I will miss her and her scooter. When this virus thing is over I hope the Campus Christian Association and friends will meet at the Hollywood Restaurant. Where we will have pizza and raise a glass to her.
Written by
Clay Benedict
2020-03-21 6:14:41 PM
---
Written by
3aplus63CefLP 3aplus63CefLP
2020-04-23 10:59:04 AM
---