Maxine Goldstein Shefrin
Post a Message of Sympathy
|
View Messages of Sympathy
|
Printer Friendly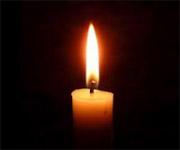 Maxine Goldstein Shefrin, 72, died peacefully Monday February 10 at Menorah Park as a consequence of almost 50 years with multiple sclerosis. Born in Brooklyn, NY on September 7, 1947 to Lawrence and Frances Goldstein she grew up in Queens. She had been a resident of Syracuse since 1977. After graduating from Francis Lewis HS, she received her BA from CUNY Queens College, and then earned her master's degree in Public Administration from the University of Massachusetts. Maxine had a rewarding career in government administration, working at the federal, state, and county level, including for Onondaga County. .
She was predeceased by her parents, and her grandson Jacob Friedlander.
Her family includes her daughters Amy (Ben Crespi) Shefrin and Elise (Ian) Friedlander; grandchildren Max and Summer Crespi, and Madison Friedlander; and her former husband Bruce Shefrin.
Graveside services, and burial with her parents in Mount Hebron Cemetery in Queens, NY are at 11:30AM on Thursday, February13. www.sisskindfuneralservice.com