Eva Eckstein Torres
Post a Message of Sympathy
|
View Messages of Sympathy
|
Printer Friendly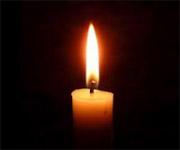 Eva Eckstein Torres, 94, died at 7:13 AM on January 8th in Framingham, MA. Eva was born on November 16, 1925 in Etyek, Hungary to Sophie and Marcus Eckstein.
Eva was a survivor of the Holocaust, but tragically her mother, father, sister Judith and countless relatives did not. After being liberated she met the love of her life at Feldafing Restitution Camp in Germany and married Albert Torres on July 13, 1945 (7-13!)
Albert and Eva eventually moved to Thessaloniki, Greece where their children were born. They Immigrated to the US in 1951, settling in Syracuse. Incredibly, Eva was reunited with her brothers Rudolf and Joseph Eckstein in Syracuse in 1956.
Eva worked many jobs until co-owning and operating the popular CDM Luncheonette on E. Genessee Street for 20 years with Albert. It was well known for great food, an eclectic clientele, and Eva as the spunky, quick-witted  waitress with a sweet tooth for hot fudge. She was a dedicated member of Pioneer Women of Syracuse for many years.
Her story is the epitome of the classic immigrant story: hard-working for a better life and education for their children. Eva will forever be remembered for her feisty, strong-willed "tell it like it is" personality; a smile that could light up any room; her spirit; and lessons on cooking, and life. She was the real deal, a survivor in all respects.
She loved, and was devoted to her family.
She was pre deceased by her beloved husband Albert in 2010, and her daughter-in-law Judith Diamond Torres in 2018.
She is survived by her children Dr. Morris Torres, and Dora Torres (David Lombardi); her grandchildren Jason (Jennifer) Torres, Ben Torres, and Jocelyn Torres Wolff; and great-grandchildren Trevor, Derek and Eliza Torres; and Sydney, Talia, and Jonah Wolff. She is also left by her devoted caregivers from HomeInstead Senior Care.
Funeral services are private for the immediate family. Burial will be in Frumah Packard Cemetery.
Shiva will be observed at Morris's home Monday evening January 13th from 7-9 PM
Contributions in Eva's memory may be made to Jewish Family Service, Shecter Holocaust Services, 1430 Main Street, Waltham, MA 02451 , or 2 Life Communities C/O Shillman House Resident Council‪, 49 Edmands Road, Framingham, MA, 01701.‬
‪www.sisskindfuneralservice.com‬
Message of Sympathy

Post a Message of Sympathy
I met Eva's daughter Dora in the fall of 1972 and we became instant best friends for life. Through Dora I had the great pleasure of knowing Eva. She was one-of-a-kind. She had those sparkly eyes, feistiness, intelligence, and naughtiness! I loved her and will miss her greatly.
Written by
Barbara Giannattasio
2020-01-09 10:40:38 PM
---
So sorry to hear this news. Sending our love! She was a great lady!
Written by
Marlene and Ronnie Naistadt
2020-01-09 8:34:56 PM
---
I'm so very sorry for your loss. Eva was a wonderful woman with a lot of spunk and she will always be fondly remembered. Love to all of the Family.
Written by
Donna Cook
2020-01-10 12:02:05 AM
---
Dear YAYA My Saturday mornings will not be the same .i will have to re program my car .. very difficultly not to drive to your apt at 8 am .. I will miss our gin games making goulash beans and franks I will miss your pep talks . Our patio walks where you walked like you were a movie star. I will miss you saying you know more than Dr Ruth. I was blessed to share your last birthday with you and chocolate cake at 10 am and the music channel . I was so honored to serve you . For every in my heart💜🍰 JAN
Written by
Jan Weinberg
2020-01-10 12:19:46 PM
---
Dora David and Family On behalf of Hone Instead here in MA We are extending love and prayers to all of you . We have so enjoyed being part of Eva's life she has touched so many . May Her Memory be a blessing♥️ Jan Weinberg
Written by
Janet Weinberg
2020-01-10 12:31:30 PM
---
So sorry for your loss many regards. I don't know where to even start I have so many wonderful things to say about Eva because she was one of the special person I always looked up to. As one the caregivers I was towards Eva I want to say that I will always have her in mind and she will always be put in a special place in my heart. My husband, both children and I are very grateful that we had the chance to meet Eva she was a very lovely person. And we had a very close relationship and I will never forget her advices that she gave me and all the cooking lessons. And therefore I dedicate this song as the close relationship we had named "Agapw" by Mia Pitsirika. And lastly I would like to celebrate Eva in her name and send all my blessing towards her for her to keep resting at peace next to her beloved husband. Written by: The Quinonez, Zylyftari Family
Written by
Flor Quiñonez
2020-01-10 12:34:32 AM
---
We are so very sorry to hear about the passing of Eva. She was a firecracker and a force to reckoned with. We are so blessed to have known her. May you find comfort in knowing how loved she was by all.
Written by
Danny & Jill (and girls) Karwowski
2020-01-10 12:50:38 AM
---
With deep sympathy God is always near and he will give you all you need. Praying for you, and the family in your time of loss. Eva was a kind, and caring woman, anytime you go to her house she always try to feed you, and give you some kind of food to take with you. Her smile lights you up. And always have a great advice for you.We used to take walks together and laugh about all the things we are going to do together. And making of her Famous chicken Paprika.She lived a life with no regrets and always willing to help anyone who needs her help. She was like a second mother to me. And as one of her caregivers, I was blessed to have known her. She will be missed. But I know she is with her family up there. Rest In Peace Eva,till we meet again.
Written by
Janet Osei-Kuffour
2020-01-10 1:03:45 AM
---
Dear Dora and Family Thank you so very much for allowing us to share a tiny portion of Eva's journey. She was a lady who touched us deeply. Our thoughts and prayers are with you all. May she Rest In Peace. Laurie Bender
Written by
Laurie Bender
2020-01-10 3:46:01 PM
---
Eva Eva! I will miss you. I am missing you now. We had a special friendship that is rare in my life. You were wise and spirited and a heck of a cook. You touched my life in so many positive ways and will forever hold a place in my heart. Rest peaceful beautiful. Your work is done. You did well. You did well! There is a God and he was with you every step of the way. Love always, Lisa M. Home Instead
Written by
Lisa M Home Instead
2020-01-11 11:38:13 PM
---
Dora, Please accept my condolences on the passing of your mother. We met at Bradley Brook in 1961 and both attended HW Smith and Nottingham ('68 grad). I have fond memories of your mother and father. During the late '50s and early '60s, Saturday often meant lunch at CDM Luncheonette. Your mother always greeted my brother and me and we often had friendly chats. Several years ago I watched a Holocaust documentary online and unexpectedly heard your mother's detailed testimony. What a remarkable woman! I moved to Chicago in 1981 and occasionally dine at the Pittsfield Cafe, a small diner in the Loop that's been around for decades. Walking in always brings back CDM memories, with the smell of homemade soup, grilled food and the friendly staff. It's amazing how we retain some childhood memories. My thoughts and prayers are with you and your family. Marty
Written by
Marty Feinstein
2020-01-11 1:40:51 AM
---