David T. Nash
Post a Message of Sympathy
|
View Messages of Sympathy
|
Printer Friendly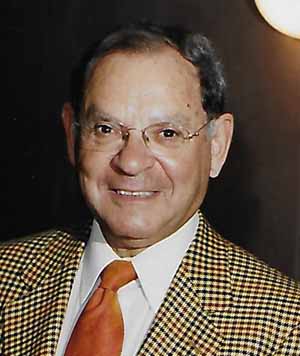 Dr. David T. Nash, 90, of Palm Beach, FL, died Saturday at The Nottingham. David was
born on October 15, 1929 in NYC to Sam and Pearl Nochimov. At the age of 21 he graduated from NYU Medical School. He then completed medical residencies at Mt. Sinai Hospital in NYC, at Beth Israel Hospital in Boston, and at University Hospital in Syracuse where he met his future wife Ellen. They were married at Temple Concord on September 2, 1956 and remained lifelong members of the Temple.
He proudly served his country in the US Air Force as a physician. He was stationed in Guam after the Korean War and was honorably discharged as a Major.
Dr. Nash established his cardiology practice in Syracuse, and with Ellen raised their family there.
He wrote books educating people on the prevention of heart disease , as well as hundreds of scientific articles. He was a pioneer in the connection between cholesterol and heart disease. Dr. Nash was a well respected and sought after lecturer who spoke throughout the world.
David  enjoyed spending time in his garden, playing tennis, and maintaining an exercise regime. He was a devoted husband, father, and grandfather who will be sorely missed.
He was predeceased by his wife Ellen on April 22, 2016, and their daughter-in-law Laurie Nash September 28, 2014.
His family includes his sons Dr. Stephen (Marla) Nash of Manlius, and Robert Nash of Fairfax, VA; granddaughters Rebecca (Michael), Ariel, Eliana, and Danielle; and grandsons Jeremy and Matthew.
Funeral services will be at noon on Wednesday, November 6 at Sisskind Funeral Chapel. Friends may visit with the family immediately prior to the service on Wednesday from 11 to noon at the Funeral Chapel, 3175 E. Genesee Street.
Burial will be the Temple Concord section of Woodlawn.
Shiva will be observed at Stephen and Marla's home on Wednesday and Thursday evenings from 7-9 PM.
Contributions in David's memory may be made to The Sharon A. Brangman Endowed Chair of Geriatrics at SUNY Upstate Medical Center, 750 E. Adams Street, Syracuse, NY 13210. www.sisskindfuneralservice.com
Message of Sympathy

Post a Message of Sympathy
Dear Robert, Rebecca, Ariel and Eliana So sorry to hear about your father/ grandfather. I had the pleasure of meeting him some years ago in Palm Beach. My thoughts and prayers are with you My best Shelley Schwartz
Written by
Shelley Schwartz
2019-11-05 3:53:12 PM
---
My deepest sympathies for your loss. I had the pleasure of working with Dr. Nash at the Syracuse DSO and always enjoyed our conversations. Besides being so very knowledgeable he had a wonderful sense of humor. I know you have many fond memories of your time with him.
Written by
Elizabeth Carroll Clinton
2019-11-06 1:34:26 PM
---