Marianne Seidenberger
Post a Message of Sympathy
|
View Messages of Sympathy
|
Printer Friendly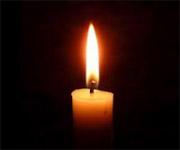 Marianne Seidenberger, 96, passed away peacefully in her home on Friday September 27th in New York City. Born on August 8, 1923 in Nuremburg, Germany, Marianne, along with her mother Else and her sister Lilo, escaped the holocaust and immigrated to America. As a resident of New York she worked as a bilingual secretary located in Rockefeller Center. Marianne enjoyed the culture of a metropolitan city and all it had to offer as she frequently attended plays, the opera and the symphony.
Marianne was predeceased by her sister, Lilo Yondorf and her mother Else Seidenberger.
Surviving is her niece Carol Yondorf Moroz and her husband Alex; and several cousins.
Marianne's family would like to thank her caregivers for their many years of comfort and support; especially Lucia Ortiz
Services for Marianne will be on Wednesday, October 2, at 1:00 pm at Sisskind Funeral Chapel, 3175 East Genesee Street, Syracuse, NY Burial will be in Adath Yeshurun cemetery next to her mother, and her sister. www.sisskindfuneralservice.com.
Message of Sympathy

Post a Message of Sympathy
Marianne was my dad's first cousin and my second. When we spoke I was always reminded that she was the only living family member who could still recall my dad.
Written by
Susan Lissner
2019-09-30 1:01:47 PM
---