Michele Anne Tremont Kruth
Post a Message of Sympathy
|
View Messages of Sympathy
|
Printer Friendly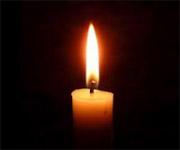 Michele Anne Tremont Kruth 70, died early Thursday morning at St. Josephs Hospital. Michele was a life resident of Syracuse. She was a graduate of St. Patrick's HS, a member of Pulaski Puritan Chapter Order of the Eastern Star, a friend of the Pulaski Library, and a past member of Temple Adath Yeshurun. Michele was a stay at home mom who devoted her time to her children as a leader of their brownies, cub scouts and boy scout troops. She was honored to have been a unit commissioner for the Boy Scouts of America.
She will be remembered for her love of cooking shows, online shopping, and being the "Bubbie" who showered her family and especially her grandchildren with special gifts she knew they would love.
Funeral services will be graveside at 11AM on Sunday, September 29 in Beth El Cemetery.
Her family includes her husband Norman of 47 years, their children Aaron (Cindy), Joshua, and Rachel; her granddaughters Hannah and Natalyn; and her brothers-in-law Sheldon (Karen), Marc (Tina), and Louis (Marianne).
Contributions in her memory may be made to a charity of one's choice
Message of Sympathy

Post a Message of Sympathy
Norman and Family. Please accept our sincerest condolences for the loss of Michele. Our thoughts and prayers are with her and your family. She was a wonderful person.
Written by
Joe & Pat Mehlek
2019-09-26 11:56:26 PM
---
My déepist sympathy goes to the Kruth family. I will miss talking to Michele on the phone and catching up on things. Rest in peace my old friend. ❤
Written by
Janet Gordon
2019-09-26 7:35:22 PM
---
Dennis and I send our deepest heart felt sympathy. We have many fond memories of your whole family as we grew together as young neighbors some 40+ years ago. God speed Michelle. Until we meet again.
Written by
Liz Borland
2019-09-26 9:34:11 PM
---
Norman and family. With deep sorrow Donna and I write and send our sincere condolences. We prey that the warm feelings of your many friends, the Brethren, and the Companions will give you some comfort.
Written by
Harvey Eysman
2019-09-26 9:59:55 PM
---
To Norm and the Kruth family we are sorry to hear of the passing of Michelle. She lit up the room whenever she entered and she was a friend to us all. I just want you to know that We are keeping you all in our thoughts and prayers. I'm here for you if you need me.
Written by
Michael Cassavaw
2019-09-29 1:54:56 PM
---