Helene Sheppard
Post a Message of Sympathy
|
View Messages of Sympathy
|
Printer Friendly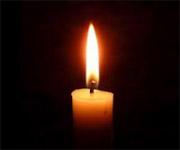 Helene Sheppard, 98, died peacefully early Sunday morning at her home at The Oaks of Dewitt. Born September 14, 1920 in London she and her late husband Harry had been residents of The Oaks since 2007. They had been married 70 years when Harry died in 2012.
Helene was the former director of the Girls Club of Syracuse, and an active member of Congregation Beth Sholom Chevra Shas.
She is survived by her daughter Judi (Ed Allan) Carter; granddaughters Jacqueline Carter, and Joanne (Paul) Wilson; and great grandsons Benjamin, Cameron, and Nicholas.
Funeral services will be at 1PM on Tuesday, August 13 at Sisskind Funeral Chapel, 3175 E. Genesee Street. There will not be a calling hour prior to the service.at Sisskind Funeral Chapel. Burial will be in Beth El Cemetery.
Contributions in Helene's memory may be made to The Foundation at Menorah Park.
www.sisskindfuneralservice.com
Message of Sympathy

Post a Message of Sympathy
I'm in Colorado or I'd come to the funeral, of course. Helene was such a special woman! She knitted hats for me and my daughter. I counted on her help leading services—she always helped me with the challah and wine/juice. It was a treat when I got to sit with her at dinner. One evening together we sang an old song we both loved, "I Vow to Thee My Country." I always so enjoyed her company, and my daughter and I will miss her a lot. Her memory is such a blessing. May you be comforted.
Written by
Jessie Kerr-Whitt
2019-08-11 10:56:22 PM
---
I just wanted to pass along my Condolences to Judi, Jacqueline, Joanne, their families and friends. I have known Helene for a number of years now, and she always had such wonderful stories to share. Helene was a lovely woman, and I will remember our conversations fondly. I will think of her whenever I use my cap she knitted me too. I am sorry I am unable to attend today, but please know I am thinking of you and pray that the many happy memories you share will help hold you during this time.
Written by
Lori McGee
2019-08-13 5:01:25 PM
---
We met Helen as dinner companions at the Oakes. For the short time we knew her, we enjoyed her company and friendship. We miss her. Love and prayers.
Written by
Mary & John Klein
2019-08-14 6:18:34 PM
---