Marta Saenz
Post a Message of Sympathy
|
View Messages of Sympathy
|
Printer Friendly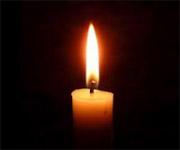 Marta Saenz, 91, died Monday, July 8 at Menorah Park. Born in Argentina in 1928 to Ramon and Paulina Rovner, Marta had been a practicing Physician at The Henry Horner Hospital of Chicago for many years before retiring and moving to Syracuse to be close to her family.
She is survived by her sons Mario (Lisa Goodlin), and Eduardo; and her grandson Miguel.
Funeral services will be at 10AM on Wednesday July 10 at Sisskind Funeral Chapel. There will be no calling hours prior to the service. Burial will be in Frumah Packard Cemetery.
Contributions in her memory may be made to the employee fund at Menorah Park. www.sisskindfuneralservice.com
Message of Sympathy

Post a Message of Sympathy
Sincere condolences to Mario, Lisa, Miguel and Mario's brother Eduardo on the passing of Marta. May she be in the loving arms of all those family and friends who passed before her in eternal peace and happiness.
Written by
Michael Perry
2019-07-09 12:50:15 AM
---
Mario, Lisa, Eduardo, and Miguel: Thinking of you all through this difficult time. My prayers are with you, and may your memories comfort you in the days ahead.
Written by
Lisa Perry
2019-07-09 6:11:27 PM
---
Un mes después de su fallecimiento quiero hacer un sentido homenaje a mi madre Marta Rovner de Sáenz (Basavilbaso, provincia de Entre Ríos, Argentina, enero 10 de 1928 -- Syracuse, estado de Nueva York, Estados Unidos, julio 8 de 2019). Médica egresada de la Universidad de Buenos Aires y especializada en la Universidad de Illinois en Chicago. Una mujer sabia, estudiosa, pintora y dibujante talentosa, de muy buenos sentimientos, franca, cariñosa, generosa, ejemplo de dedicación, amor y bondad. Siempre te recordaré querida mamá...
Written by
Eduardo Sáenz-Rovner
2019-08-09 5:39:24 PM
---