Pauline Friedman
Post a Message of Sympathy
|
View Messages of Sympathy
|
Printer Friendly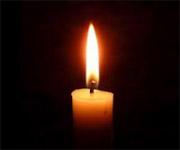 Pauline Friedman, 92, died Tuesday at Menorah Park. Born in New York to Harry and Libby Ginsky she had been a resident of Syracuse for most of her life. She loved to travel, was a snowbird in FL and CA for many years, and enjoyed playing Mah Jongg with her friends. Pauline was a former member of Temple Beth El, nd a current member of Temple Adath Yeshurun. Her life centered around her family and gave her great pleasure. She was the force that kept the family together~ always teaching her family the importance of family.
She was pre-deceased by her husband Morris in 1989, and her brother Victor in 2017.
Her family includes her children Renee (Howard) Kramer, Jeffrey (Karen) Friedman, and Howard Friedman; her grandchildren Jennifer (Anthony) Cardarelli, Gregory Kramer, and Samantha Friedman; her
sister-in-law Carol Ginsky; her niece Jan Ginsky, and her nephew Marc (Elissa) Ginsky.
Funeral services will be at 11AM on Friday May 17 at Sisskind funeral chapel, 3175 E. Genesee Street. Friends may visit with the family immediately prior to the service on Friday from 10-11AM at the funeral chapel. Burial will be in Beth El Cemetery.
Shiva will be observed at her sister-in-law Carol's home from sundown Saturday evening until 9PM, and Sunday from 2-4PM
Contributions in her memory may be made The Employee Fund at Menorah Park in appreciation of their loving care and kindness. www.sisskindfuneralservice.com
Message of Sympathy

Post a Message of Sympathy
Pauline and my mother have been best friends from their early childhood to present day. Pauline and family have always been a fixture in my own family's life. In a world of quick and easy sentiments, Pauline was always the opposite. Pauline was more of a listener, forever thoughtful, strong minded, unpretentious, honest, genuine, caring, and generous. She did not parade her emotions for all to see. But to know Pauline's great character was to know those emotions ran very deep and very strong within her. To have Pauline as our closest family friend, and as a loved one has been our unique privilege and honor. She has been a constant and reassuring presence in my family's life. Pauline is truly a woman of valor, and we will all miss her dearly.
Written by
Joel Lipsy
2019-05-16 6:34:30 PM
---