Elliott S. Meltzer
Post a Message of Sympathy
|
View Messages of Sympathy
|
Printer Friendly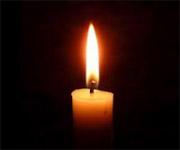 Elliott S. Meltzer, 73,died peacefully at his home early Sunday morning. He had been a life resident
of Syracuse. Elliott worked with his parents, aunt, and uncle of blessed memory at Tri-State Auto Auctions which was founded in 1976 by his father Jake, his uncle Ben, and Elliott. Elliott was an active, though quiet philanthropist in the Jewish Community of Central New York. He was a member of Temple Adath Yeshurun.
He is survived by his wife Colette, his sons Daniel (Cindy), David (Sharon), and Jason (Michele); his grandchildren Noah, Evan, Rachel, and Lauren; his sister Elaine (Alan) Goldman; and a large and loving extended family.
Funeral services will be at 2PM, Wednesday April 17 at Sisskind Funeral Chapel. Friends may visit with the family immediately prior to the service on Wednesday from 12:30 to 2PM at the funeral chapel, 3175 E. Genesee Street. Burial will be next to his parents in Adath Yeshurun Cemetery.
Contributions in his memory may be made to Temple Adath Yeshrun, The Jewish Community Center, The Jewish Federation of Central New York, or the Foundation of Menorah Park. www.sisskindfuneralservice.com
Message of Sympathy

Post a Message of Sympathy
Elliott you have been my adopted brother. For over 45 years we spoke everyday. We understood each other. You made an only child have a sibling. I am heartbroken. I will look at the stars at night and choose a star and we will continue talking. You will be forever in my heart!
Written by
Martha Kronenberg
2019-04-15 7:35:18 PM
---
Elliott- We will miss you greatly. Tri-State was our home, when Melvin started 22 years ago. Your one of kind personality made everyone feel welcomed. Thank you. Prayers to all your family. You will be missed.
Written by
Fay Tyrrell
2019-04-15 8:40:17 PM
---
Our deepest sympathies to all the Meltzers. Elliott will be missed by his family and many business associates. May he rest in peace.
Written by
Marshall & Jeanne Trionfero
2019-04-15 8:42:48 PM
---
To the Meltzer family, With My deepest sympathy and a prayer for a wonderful man. He always had time for a kind word and a smile. Now Jake and Ben will have a score keeper for Their hillarious golf games. Rest easy My friend.
Written by
Jack Kavanaugh
2019-04-16 11:04:19 AM
---
Elliott was a true mensch. His passing is a tremendous loss for his family, community, and friends. I have had the pleasure of knowing Elliott for over twenty five years. It is a friendship that I will treasure forever. May his memory be a blessing.
Written by
Steven Jacobs
2019-04-16 2:24:42 PM
---
Sincere condolences to the family, Sherry Meltzer
Written by
Sherry Meltzer
2019-04-20 2:06:08 AM
---