Gail Horwitz
Post a Message of Sympathy
|
View Messages of Sympathy
|
Printer Friendly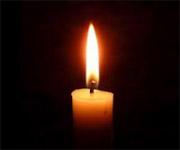 Gail Horwitz, 75, died Tuesday morning in Austin, TX. Born in Syracuse to Harvey and Rose Lessen Rumaner, she had been a life resident of Syracuse until recently moving to Austin to be closer to her son and daughter-in-law. During her professional career Gail had been a teaching assistant in the JD schools. She was a member of Temple Adath Yeshurun, and an active volunteer at St. David's North Austin Medical Center where everyone she came into contact with became a close and loving friend.
Gail was predeceased by her husband Michael, and her brother Buddy Rumaner.
She is survived by her son Randy and daughter-in-law Brenda.
Funeral services will be at 11am, Sunday, March 17, at Sisskind Funeral Chapel.
Friends may visit with the family immediately prior to the service from 10 to 11 at the funeral chapel, 3175 E. Genesee Street.
Burial will be in Adath Yeshurun Cemetery.
Contributions in her memory may be made to Guiding Eyes for the Blind.
www.sisskindfuneralservice.com
Message of Sympathy

Post a Message of Sympathy
I am so sorry for your loss! My condolences to the family! RIP Gail!
Written by
Gerry Sohl
2019-03-12 10:34:22 PM
---
So very sorry to hear about your loss. Gail was (and continues to be) an extremely special soul who treated everyone she met with warmth and compassion. I adored our visits as kids and adults, and she always treated me (and all of our childhood friends) as a 2nd Mom. May she rest in eternal peace and tranquility the same way she lived her selfless, giving, and beautifully spirited life. David LaPiana & Family
Written by
David LaPiana
2019-03-12 8:37:40 PM
---
Dear Randy, Brenda and family, We are so sorry to hear about Mom. We send you our heartfelt condolences and are keeping you close to our hearts and in our prayers. Hugs, Gloria and Scott Manuel
Written by
GloriaScott Manuel
2019-03-13 3:08:38 AM
---
I was so sad to hear of Gail's passing. I grew up with Gail at camp and school and loved her for her wit, kindness and generosity. She was a very special person. Please accept our deepest condolences at this most difficult time. RIP, my friend. Suzi and Richard
Written by
Suzi Sohl Wagman
2019-03-13 9:07:31 PM
---
My deepest sympathies to the entire family. Dr. Levy
Written by
Dr. Leonard Levy
2019-03-14 10:45:56 PM
---
Dear Cousins, Chuck and I are very saddened on the loss of our cousin Gail. My sister, Evelyn Cohen and I would visit her home on Sundays with our Father, Abe Rumaner. The two of us and Gail would always go to her room and play and have fun. Our family was large then and we all grew up together. We wish you peace and good days ahead. Fondly, Myrna and Chuck Schecter 2019-3-13 8:15 PM.
Written by
Myrna Rumaner-Schecter
2019-03-14 12:10:23 AM
---
Gail was always special to the Freeman family. Fun, laughter and memories is what I will always remember about Gail. She will be missed
Written by
NANCY FREEMAN
2019-03-15 12:44:31 AM
---
Bernie and I grew up with Gail but we have not seen her in many years. We remember many happy times together and extend our sympathies to Randy, Brenda and family. May she rest in peace. Bernie & Sue Weisbond
Written by
Sue Weisbond
2019-03-17 3:40:10 PM
---
Bernie and I grew up with Gail and we remember many happy times together. Our sympathies to Randy, Brenda and the family. May you rest in peace, Gail. Bernie & Sue Weisbond
Written by
Sue Weisbond
2019-03-17 3:50:51 PM
---
Hi Randy! Todd told us that your mother passed away! We were very sad to hear that! I always had a good time doing things with your Mom. And I was especially thankful to her for helping us by having Todd stay with you when I went in to the hospital at 2am when Steven was born! What a God-send she was! We wish you peace at this difficult time! Candy and Andy VonDeak
Written by
Candy VonDeak
2019-03-19 11:22:34 PM
---
My sympathy to you Randy. I worked at Upstate Medical Center, 5C Pediatric Hematology Oncology as their child-life specialist. I met you (a baby) and your parents in 1977 when your Mom brought you for chemotherapy. I'll never forget how you, Randy, a baby, could sense when your Mom came into the room (even though you couldn't see her). You were lying in a crib at 5C and I was reading to you and patting your back as you rested (meanwhile children and medical staff would come and go and you gave them no notice) But up popped your head as your Mom tried to quietly sneak in;-) (after going to use the phone to give your Dad an update) Randy, you were so smart and absolutely LOVED by your Gail, such a great mom! My sympathy to you and all who loved her. Sincere condolences, Marilyn (Tickner) McNamara
Written by
Marilyn McNamara
2019-03-19 3:58:23 PM
---
Dear Randy , It was one of the great joys of my life to know you and your family. My kids, Andy, Christian, Peggy , and Teddy recall your Mother with fondness too, either as a school parent of you of from her working in the schools. By sympathy to your family and best wishes for your continued health. Dr. Imboden
Written by
Linda Imboden
2019-04-01 2:59:37 PM
---