Jessica Fern Shore
Post a Message of Sympathy
|
View Messages of Sympathy
|
Printer Friendly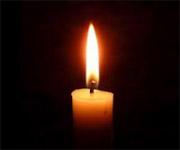 Jessica Fern Shore, 38, died Friday March 8. Jessica was a fiercely independent woman; a loving daughter, sister, and aunt. She always had a smile on her face.
Funeral services will be at 2PM on Monday, March 11 at Sisskind Funeral Chapel. Burial will be beside her grandparents of blessed memory in the Shaarei Torah section of Oakwood cemetery. May Rabbi and Deborah Shore and their family be comforted among the mourners of Zion and Jerusalem. Contributions in her memory may be made to the Jessica Shore Youth Fund at Shaarei Torah Orthodox Congregation of Syracuse.
www.sisskindfuneralservice.com
Message of Sympathy

Post a Message of Sympathy
Baruch dayan haemes.with all our tefillos for you and the family.may she be a mayletza yeshara.
Written by
Moshe bomzer
2019-03-10 1:23:47 PM
---