Lawrence Greenhouse
Post a Message of Sympathy
|
View Messages of Sympathy
|
Printer Friendly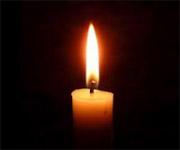 Lawrence Greenhouse, 98, died Saturday in Rochester surrounded by his family.
Born September 14, 1920 in Syracuse to Reuben and Fanny Greenhouse, he had been a life resident of Syracuse. He was partners with his brothers in their family business, Pilgrim Meat Packing. Lawrence was a manga cum laude graduate of SU with a degree in accounting. He was a veteran of the Army Air Corps; having served in WWII
The love of his life; his sweetheart Babe died in 2009; and their son Ronnie in 1960.
He will be lovingly remembered by his daughters Nan (Howard) Miller, and Janine (Jay Wall) Price; grandchildren Rebecca (Rob), Jenna (Adam), Adena, Griffin, and Paige; and great-grandchildren Lilly, Aubrey, Ashley, Rachel, and Emma
Funeral services will be at 11AM on Monday, December 31 at Sisskind Funeral Chapel. Friends may visit with the family immediately prior to the service on Monday from 10-30 to 11 at the Funeral Chapel, 3175 E. Genesee Street. Burial will be in Adath Yeshurun Cemetery.
Contributions in Larry's memory may be made to the Neonatal Intensive Care Unit at Crouse Hospital of Syracuse, or Gilda's Club of Rochester.
www.sisskindfuneralservice.com
Message of Sympathy

Post a Message of Sympathy
simply put a lifetime of joy, pleasant memories and love, Respectfully yours Niles and Jonita GreenhouseMD and extended family
Written by
Niles MD
2018-12-30 1:42:51 PM
---
A man of class and kindness. Condolences to all the family.
Written by
Scott Soffen
2018-12-30 9:58:10 AM
---
Nan & Jan, We are so sad and sorry for the loss of your dad. Uncle Larry was a great guy who we will always remember. The family gatherings with both Babe & Larry were special. We were out of town spending New Years with Amy & our grandchildren and sorry we missed the calling hours & funeral. Our prayers and thoughts are with you. Brian & Pat Greenhouse
Written by
Brian and Pat Greenhouse
2019-01-03 3:23:36 AM
---
So sorry to hear about your loss.Our hearts go out to you and your family.Love,Shirley Reback and Family.
Written by
Shirley Reback
2019-01-12 7:58:09 PM
---