Fritz Rohrlich
Post a Message of Sympathy
|
View Messages of Sympathy
|
Printer Friendly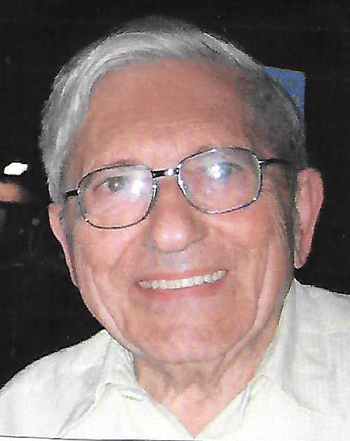 Fritz Rohrlich, 97, a Professor of Physics at SU for more than 30 years, died in DeWItt, NY, on November 14. He was born in Vienna, Austria, on May 12, 1921, and survived the Holocaust by fleeing to Palestine in 1939. His parents perished in the war. After earning an engineering degree from Israel's Technion, he came to the US in 1945, and received his Ph.D. from Harvard . His academic career took him to Princeton, Cornell, Univ. of Iowa and finally Syracuse in 1963. He married Beulah Friedman Rohrlich in 1951, who also was a longtime professor at SU when she died in 1992. They travelled widely together on Sabbaticals, and Fritz was named honorary professor at several institutions. Fritz married Phyllis Lavelanet Rohrlich in 1994. Fritz is survived by two children, Emily R. Graham (Alan) of Barre VT, and Paul E. Rohrlich (Susan Sandler) of Falls Church, VA, four step-children: David J. Ferro (Janie), Beth Ferro Mitchell (David), Daniel Ferro (Kathy), and Alain Lavelanet (Kelly Knight), two grandchildren, Noah K. Rohrlich and Jordan G. Rohrlich, and six step-grandchildren: Ben and Becca Mitchell, Tim and Megan Ferro, and Paige and Colby Lavelanet, as well as beloved niece and nephews Susannah R. Feldman, David H. Rohrlich and Daniel M. Rohrlich.
In lieu of flowers contributions in Fritz's memory may be made to the Parkinson's Disease Foundation: www.parkinson.org
Services will be conducted at 1:30, Sunday November 18 at the Oaks of Dewitt, with a reception following. Burial will be private. Sisskind Funeral Service has arrangements.
Message of Sympathy

Post a Message of Sympathy
On behalf of Syracuse Friends of Chamber Music, I would like to convey my sincere condolences! SFCM will remember Fritz for his many contributions to our community of friends.
Written by
Matthieu van der Meer
2018-11-15 11:25:11 PM
---
Paul and Susan, we are sorry for your loss. Fritz Rohrlich was a member of the greatest generation and contributed a great deal in many ways. We knew Beulah, Paul and Susan in Japan and looked up to Beulah. Our thoughts are with you and your family. Jeffrey Kealing Shelly Westebbe
Written by
Shelly and Jeffrey Kealing
2018-11-16 2:55:32 PM
---
Dear Paul and family, Our thoughts are with you in these difficult times, we will remember for sure your Dad and the good times we had when he visited Paris and when we visited him in Syracuse. Love from the Rohrlich family from France: Inge,Henri Joseph, Fabienne, Dan, Pierre,Véronique and their children, Gad, Emmanuelle, Basile, Juliette and Camille,
Written by
GAD ROHRLICH
2018-11-16 4:04:59 PM
---
Fritz was a great friend of the Philosophy Department at S.U., participating regularly in any of our colloquia that related to the philosophy of science, and asking all the right questions. He was also very kind to me, an ex-physicist turned philosopher, especially helping me to sharpen my understanding of quantum mechanics. He will be greatly missed.
Written by
Mark Brown
2018-11-16 5:18:31 AM
---
We are so sorry to for your loss. Our thoughts are with you all at this difficult time.
Written by
David Schulman & Joan Mofshin
2018-11-16 5:49:38 PM
---
We were so sorry to hear about the passing of Fritz. Losing a parent is never easy at whatever stage in life they have achieved. Your own devotion to Fritz putting aside your own challenges was, I am sure deeply appreciated by him these last years. Our family's good thoughts will always be with you and your family.
Written by
Julie, Rita, Steven Kroloff
2018-11-16 6:19:33 PM
---
Dear Paul and Family, After a long life full of achievements, your dad has been called by the creator. Although we have never met him in person, your vivid descriptions of your late father will remain alive in our Memory. Our thoughts are with you. With Our deepest sympathies
Written by
Thorsten, Kulwadee and Thara Eisingerich
2018-11-16 9:57:30 PM
---
May he Rest In Peace. My prayers go out to those who survived him. God bless.
Written by
Nicholas Payne
2018-11-26 2:42:05 PM
---
Клуб #RAZBOGATEI - ВЫПЛАЧИВАЕТ ИСПРАВНО https://razbogatei.com/p/esif22 НЕ УПУСТИ ШАНС РАЗБОГАТЕТЬ НА 7 000 000 ? СТУДЕНТ ВХОД 100 РУБЛЕЙ ВЫХОД - 699 600 ? СТАЖЁР ВХОД 200 РУБЛЕЙ ВЫХОД - 1 399 200 ? МЕНЕДЖЕР ВХОД 300 РУБЛЕЙ ВЫХОД - 2 098 800 ? ДИРЕКТОР ВХОД 400 РУБЛЕЙ ВЫХОД - 2 798 400 ? НОВЫЙ ТАРИФ "БОСС" ВХОД 1500 РУБЛЕЙ ВЫХОД - 7 000 000 ? ПАССИВНЫЙ ЗАРАБОТОК - "приглашать" и пр. никого не надо!!! Не Обязательно Быть Умнее Других - Надо Стараться Быть Раньше Многих!!! *Проекту ВСЕГО несколько дней!* Мы - первые по подключениям!!! Успей вступить в первых рядах на самой верхушке! _______________________ Регистрация, Активация https://razbogatei.com/p/esif22 #млм #работанадому #бизнесонлайн #зароботоквсети #РЕФЕРАЛЫ
Written by
TommylekSD TommylekSD
2019-01-19 2:32:14 PM
---